Like a phoenix, the art of Xxavier "Reverend" Carter goes up in flames at the end of its life cycle. He creates everything from poetry to performances to paintings.
In 2013 or 2014, he scattered the ashes of a majority of his portfolio into the Atlantic Ocean. More recently, Carter's taken all YouTube videos related to his art down, and examples of his visual art can scarcely be found on the internet. Now his art is in a relatively new cycle. Carter moved to Dallas to further his art and is in his third year of SMU's MFA program. The themes of his new art overlap with that of the old, and so is rebirthed from purged ideas.
"Maybe the body of work I'm working on right now is something that's going to happen in my time at the master's program. It really has to end in some way, so finding the conscious place where those things meet is what my practice is about," said Carter.
Carter describes his artistic process as mirroring most people's daily life preferences: he's constantly switching between form. He says most people don't create things in the same medium day after day. Some days he writes poetry, others he'll work on a drawing or sculpture. Carter likens this to acquiring a job. One needs writing skills for a resume, performs being an attractive job applicant in a spoken interview, and, if one gets the job, will create what is required of them in another medium.
Carter's studio reflects this fleeting style of creation. It's stacked with wooden sculptures against the wall and in the middle of the floor. Abstract Picasso-esque drawings hang pinned to the wall, waiting to be filled in with color. His cat, Tiger, ignores the drawings and chunks of wood not yet cut into blocks, jumping from shelf to shelf.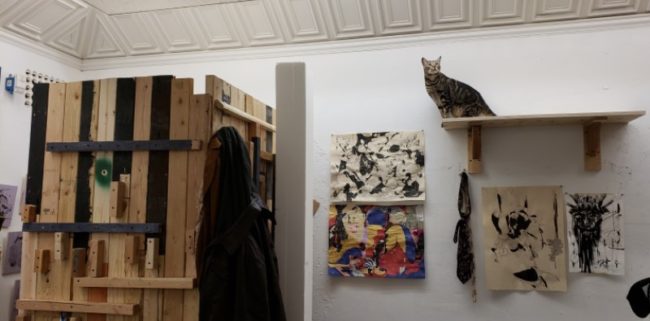 "I'm like a fuckin multi-tool, swiss army knife type," said Carter, laughing. "The art for me is like the external expression however it comes out… representing something true to my life. So that comes across in writing, sculpture, print-making, video, performance, drawing. So I take that approach, which is its own interdisciplinary thing."
To Carter only art that has a voice, such as sound art and music, can speak for itself. He tries to communicate his ideas through the medium, but he says it cannot speak for itself. In his performance of "Sweet Jesus," Carter walked 10 miles wearing little more than ropes and carrying a large wooden cross on his back. He didn't tell spectators what he was trying to accomplish, but hoped they could understand his message. The way most art functions is by invoking feelings in its audience. But according to Carter, the conversation is between artist and audience. In this performance, he hopes to have spectators recognize him representing Jesus as a person of color.
Jer'Lisa Devezin, Carter's studio mate and fellow MFA student, described his artistic process as strenuous.
"It's a very strenuous process that he goes through, collect[ing] every damn thing. He fabricates and he collects and reuses it in some way. It's this resourcefulness of shit that he finds and things that are precious to him or things that [are] a part of his everyday life. All that's incorporated into these installations, but then he also uses the materials to make the work like the box that he made."
She says he repurposes these items into "his own label." Similarly, his performance pieces are usually intense, pushing his body to an extreme. Devezin says that in doing so he induces the stereotypical image of a black man laboring and in pain. He displays the pains in his life to highlight the struggles of other black men and artists.
Carter founded the Black Cock Foundation, which aims to promote exposure of black artists. He does this by hosting events showcasing black artists' works and using the money raised to benefit other black artists. On Oct 27 he hosted the Black Cock Art Foundation Fundraiser Dinner, where three black artists performed.
While the name might suggest black men would be preferred in this aid, he clarifies that the help goes to black artists regardless of gender. In choosing this name, Carter hopes to oppose "how conservative hetero-patriarchal white supremacist hegemony" commodifies the black body, which for him usually manifests in very visual terms. This issue has been particularly prevalent in the current political rhetoric with the increased visibility of white supremacists.
Carter said, "In the speech of Milo Yiannopolous, he was so ardent in his love for black cock, [but] black cock doesn't love you back."