For the first time in seven years, the SMU Mustangs took down TCU in the historic Iron Skillet rivalry game.
It's now Sonny Dykes' second year as head coach of the Mustangs, and he has led the them to a 4-0 start on the season. It's been quite a while since SMU fans have seen this efficient of a football team.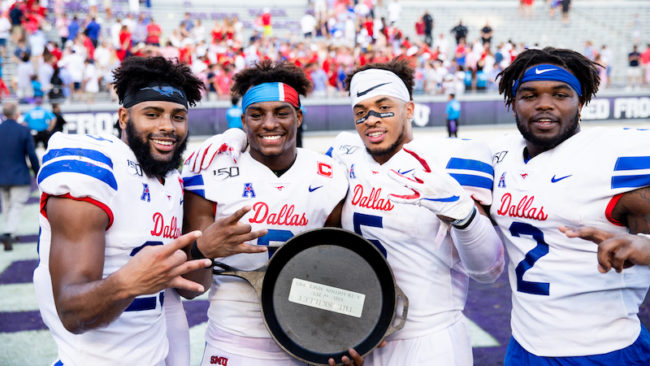 "I hadn't been here for 35 years so it's a big deal for our fans and I get it, like I said I don't try to get caught up in all that stuff during the season. Just because I think it's a bit of a distraction," Dykes said after the game. "You've just go to prepare for every game and go play the best you can play and if you win you celebrate for a little bit and you move on. And if you lose you try to figure out how to fix it, and you get better."
Since the cross-town matchup began in 1915, TCU leads with 51 victories to SMU's 40. The Mustangs can add another check mark to that statistic as they took down the Horned Frogs in a nail-biting 41-38 victory.
University of Texas transfer quarterback Shane Buechele has lost twice in his college career to the TCU Horned Frogs, but after throwing for 288 yards and two touchdowns on Saturday the Arlington-native was finally able to redeem himself.
"It feels really good, you know they're a tough team and my freshman year they had a top defense, my sophomore year they were really good on defense too," Buechele said after Saturday's matchup. "They're still good on defense. They're ranked I think two in the nation on defense, but it was important for us to go get the win and for me you know it was really exciting."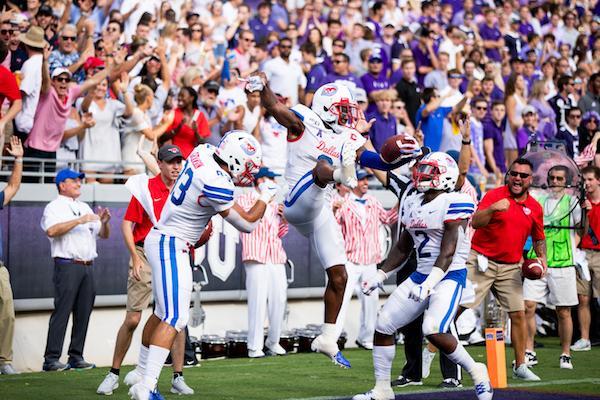 SMU's offense under coordinator Rhett Lashlee came quick out of the gates with 15 unanswered points in the first quarter. Running backs Xavier Jones and Ke'Mon Freeman struggled to find open space for most of the day, but Buechele was able to throw downfield for big yardage to several of his talented receivers.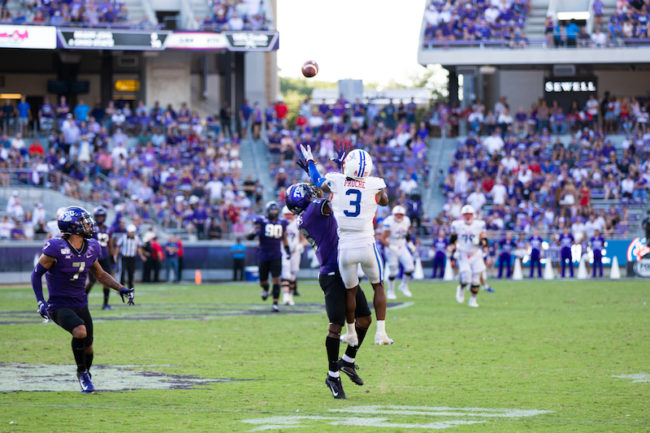 "It was great to start fast. We have to be a lot better when we get the ball off a turnover," Buechele said. "We got it a couple times and got stalled out, so we have to be a lot better in that aspect of trying to flip it. It was important to start fast and go up 15-0."
Kevin Kane's defense stood strong throughout the day and secured the win even after TCU had a last-minute opportunity to score. They forced six fumbles but only recovered three. Like Buechele said, on a couple turnovers, the Mustangs couldn't capitalize and add to their already substantial lead. The Horned Frogs started to come back at the end, but the SMU defense dug deep for the final minutes of the game and forced a turnover on downs.
"Our guys competed hard for the football. I thought we tackled fairly well on defense," Dykes said. "We let Darius Anderson have a really long run where we thought we had him tackled and he got an 80-yard run. But beyond that we made them earn everything they got for the most part."