MEMPHIS — SMU's football game might not have started until 6:30 p.m., but many SMU fans were up before the sun on Saturday morning for a unique experience: ESPN's College GameDay.
"We got here at 5:30 this morning," said SMU senior Cooper Barghols. "We showed up and went right to the side-line show."
This was the first time since 2011 that SMU was featured on the infamous show on ESPN. Mustang fans held their signs and flags high on down Beale Street showing their support for the Mustangs.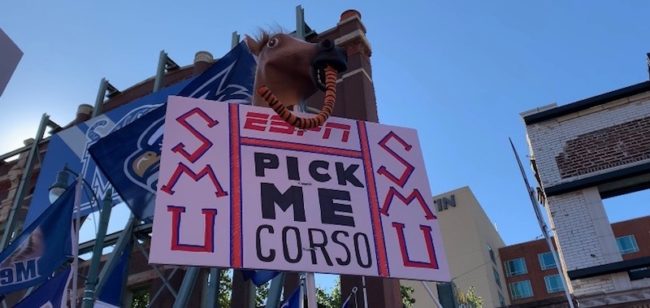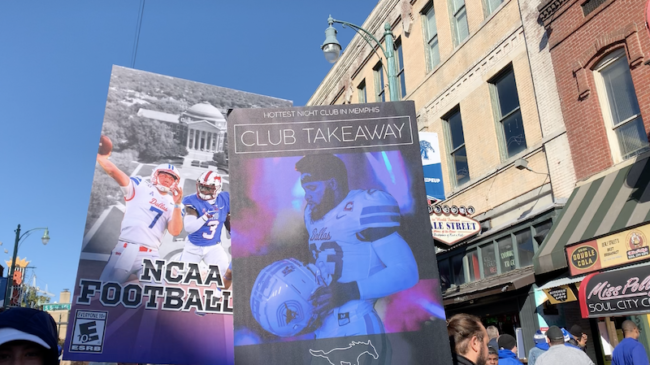 A highlight for many fans was when Lee Corso threw the Memphis Tiger's mascot head off of the College GameDay stage and selected SMU to win the prime-time match-up. He showed his support by wearing a Peruna head, which was a great combination with his Elvis costume.
Corso really did that to the Memphis fans!

He's picking SMU to stay undefeated 🐎

(📍@NationalGuard) pic.twitter.com/JnEwFXyF83

— College GameDay (@CollegeGameDay) November 2, 2019
This was a special morning for many SMU students, but one in particular had a unique gameday experience. Reed Rudesill, a senior at SMU, grew up going to Memphis football games with his family. He invited all of his friends from SMU to Memphis for the game and they would be sitting in the same seats Rudesill had cheered for the Tigers in throughout his childhood, but he would be cheering for the Mustangs instead.
"We're having such a good time," said Rudesill. "It's great to see all the alumni and all the people here."
@kileyhession7 is here on Beale Street for @CollegeGameDay #PonyUp pic.twitter.com/Mveayzbsvv

— Hilltop Now (@Hilltop_Now) November 2, 2019
Memphis native and SMU student Reed Rudesill made the trip from Dallas to cheer on the Mustangs #PonyUpDallas @CollegeGameDay pic.twitter.com/kS388mJPHY

— Hilltop Now (@Hilltop_Now) November 2, 2019