With the 2020 NFL draft coming up in April, several former Mustangs have been training to take the next step into professional football.
Standout players James Proche, Rodney Clemons, Ryan Becker, Xavier Jones, and Patrick Nelson are all training at the Athlete Performance Enhancement Center (APEC) in Fort Worth, along with 27 other players from schools like Alabama, Baylor, and TCU.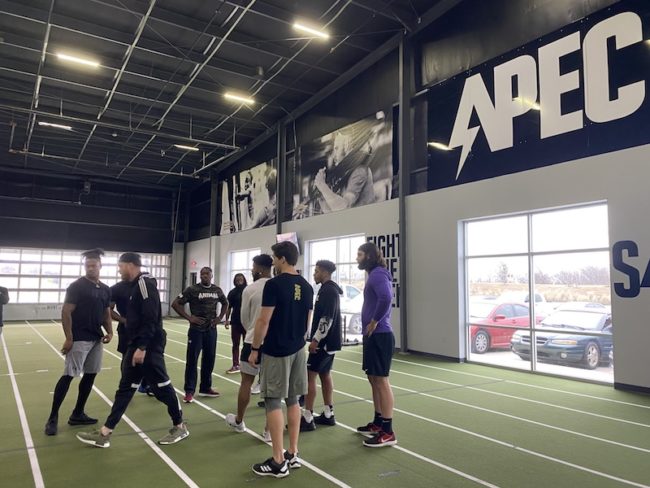 "APEC has been life changing," Jones said. "Now were just focused on strictly football, no college, no classes, so we can kinda buy in a little more and focus on the small details."
After their season ended in a loss to Florida Atlantic University in the Boca Raton Bowl in December, the players took a much needed break before starting their preparations for the draft.
"After that [game], I hugged my coaches and told them I was thankful for each one of them… then I kinda just started focusing on myself," Jones said. "I spent a lot of time with my family…kind of just got away from football for a little bit."
But, for the past six weeks, all five players have been training on a strict schedule at the center.
"The training is a lot longer," Nelson said. "We're here everyday from like 8:30 a.m. to 1:00 p.m."
Their training has emphasized speed and conditioning, two skills that are highly valued by NFL scouts.
Proche and Clemons got the elusive invite to show off for those scouts at the NFL combine later this month.
"I was ecstatic," Clemons said of when he found out about his invitation. "It came as a big surprise. I was just chilling at home…and I happened to go on my email for some reason and I saw the email from the NFL scouting combine."
Wide receiver Proche is ready for the combine to get started.
"I prayed on it, and I did my part of putting work in, so when you mix those two, it's gonna happen," Proche said.
The players who didn't get invited to the combine will still have the opportunity to showcase their skills for NFL scouts at SMU's Pro Day, scheduled for March 26.
"I didn't get the combine invite, but I'm looking forward to Pro Day, just going out there and showing the scouts what I can do," Jones said.
As for how they are preparing to make the transition into the NFL, many of them have turned to former SMU player and current Broncos wide receiver Courtland Sutton for advice.
"I talk to Courtland Sutton all the time," said Jones, who signed with Sutton's agency when the season ended. "He's been telling me just to keep your head down, don't worry about the critics."
All five former Mustangs will continue training with each other up until the draft, where they will find out their NFL fates.
"I get to be with my guys. We come from the same school, and we all have something to prove," Proche said.
The NFL Draft will take place in Las Vegas, starting on April 23.