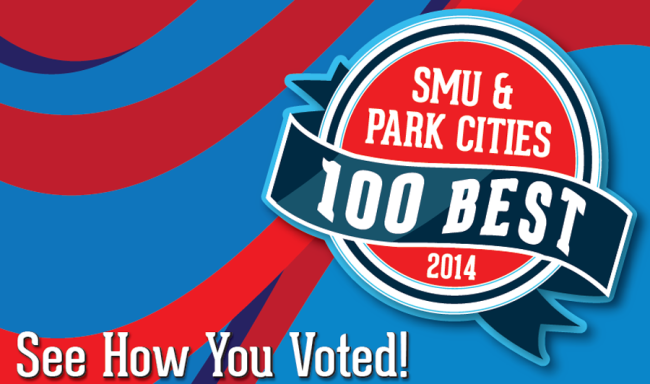 For the fifth consecutive year, The Daily Campus asked you to tell us the best aspects of life on The Hilltop, in the Park Cities and Dallas and you responded enthusiastically!
With more than 770 responses to our online survey conducted between Feb. 3 and Feb. 14, we're happy to present you the results in our fifth annual "Best of SMU & The Park Cities."
CAMPUS
Best Place to Study – Fondren Library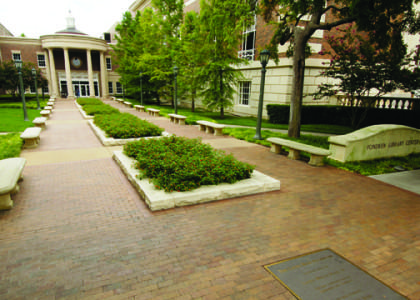 Other libraries on campus — Bridwell, Underwood and Hamon — simply can't compete with Fondren's 24/5 hours and coffee during finals week. The library, set for an overhaul as a part of SMU's Second Century Campaign, will soon be home to a coffee shop, modern outlets (even on the East side) and a revamped book collection. – Rahfin Faruk
Best Place to Relax – Dallas Hall Lawn
Iconic Dallas Hall, the first building constructed on the Hilltop, overlooks a massive lawn — manicured to green perfection. The perfect place to lay out, read a book or throw a frisbee on a cool weather day, the Dallas Hall Lawn is versatile and historic. –Rahfin Faruk
Best Residence Hall – Virginia-Snider
Best Campus Office – Student Activities
Best View of Campus – From the steps of Dallas Hall looking south toward downtown Dallas
Whether you're running to class or meeting up with friends, Dallas Hall has many uses. It's not just another building; it offers one of the best views on campus. From the top step, you can catch a glimpse of the iconic Dallas skyline. Facing south towards downtown, you realize how central our campus really is. We may be in the "SMU bubble," but we're definitely a part of the city of Dallas. – Hanan Elsaili
Best Campus Building Exterior – Dallas Hall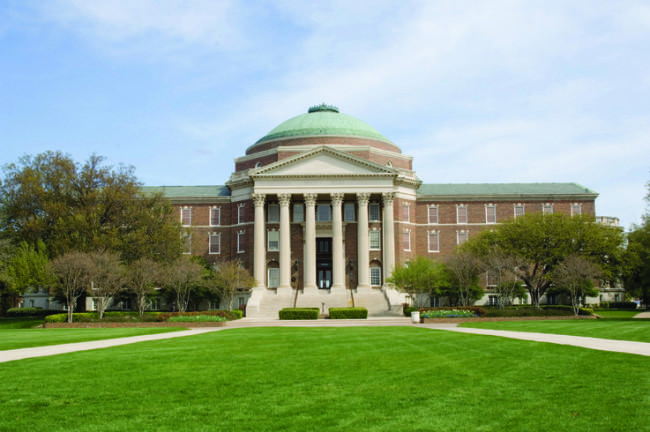 First constructed in 1915, Dallas Hall is the oldest building on campus and is the most iconic. From its well-known dome to the pillars that hold the building up, it is easily one of the most recognizable buildings on campus. Students start their SMU journey through Rotunda Passage and end their adventure passing through the same doors they passed through their first year here. SMU would not be the same without this legendary building. – Hanan Elsaili
Best Place to Take Out-of-Towners – The Boulevard
Best Place to Find Girls – Homebar (Green Elephant)
Best Place to Find Guys – Homebar (Green Elephant)
Best Place to Propose Marriage – Dallas Hall Steps
Best Professor – Ross Sloan
Best Aspect of SMU Football Games – The Boulevard
Best SMU Sport to Watch (aside from Football/Basketball) – Men's Soccer
Best SMU Female Athlete – Keena Mays, Basketball
Best Aspect of SMU Football Games – The Boulevard
While not even half the student body can be expected to attend an entire football game, you can be sure that the vast majority of students will make a point of showing up to The Boulevard prior to a game. Game days are one of the few instances when SMU becomes a "wet" campus, and students, alums and Mustang supporters gather together, beer in hand, to celebrate the SMU community. With plenty of food, drinks—for the 21 and overs of course— and socializing, Boulevarding is irrefutably an SMU favorite. – Avery Stefan
Best SMU Male Athlete – Nic Moore, Basketball
After sitting out last season due to transfer eligibility rules, Nic Moore burst onto the scene in the 2013-14 season to lead the men's basketball team to their first AP ranking since 1985. Moore has averaged 14.2 ppg while playing an average of 32.1 minutes per game. – Ryan Miller
Best SMU Tradition – Boulevarding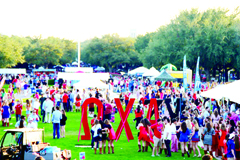 "We don't tailgate, we boulevard." Fall brings a season of Boulevarding to SMU's campus. Before each home football game, SMU students, faculty, alumni and friends come out to enjoy food, drinks and games all along Bishop Boulevard — the main thoroughfare in the heart of the campus. With tents from one end of the Boulevard all the way to Dallas Hall, there is something for everyone in this beloved SMU tradition. – Tashika Varma
Best First Year Memory – Residence Hall Experience (meeting roommate/floormates, RA, lounges)
Best Eatery (on campus) – Einstein Bagels
MARKET
Best Off-Campus Student Housing – The BLVD.
Best Women's Fashion Store – Anthropologie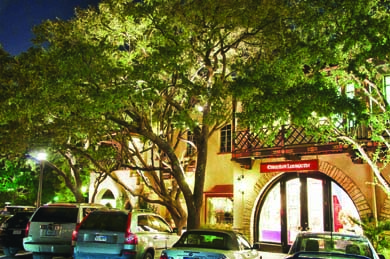 Anthropologie (100 Highland Park Village, Dallas, TX 75205) offers a wide variety of women's fashion and home décor. Shopping at Anthropology will help anyone express their one of a kind style in more ways than. Located within walking distance of campus students are able to shop and enjoy everything Highland Park Village has to offer. – Chrystalla Georghiou
Best Men's Fashion Store – J. Crew
The debut of the J. Crew Men's Shopt at Northpark (8687 N Central Expy, Dallas, TX) this past year, it marks a significant moment for the men's line. The men's shop offers a modern industrial vibe along with all the classic and timeless pieces that are J.Crew's trademark. Henleys, chinos and MacAlister boots are all available, along with ties, jackets and accessories to achieve weekend casual and at-work sleek looks. – Jordan Moore
Best Shopping Mall – Northpark Center
Northpark Center (8687 N Central Expressway, Dallas, TX 75225) is 'the mall' for Dallas natives. While many tourists flock to the much grander Galleria, Northpark Center has a chic boutique feel without being too small to offer up mainstream styles that customers want. You can find just about anything you need at a great price. – Brent Paxton
Best Shopping Boutique – The Impeccable Pig
The Impeccable Pig (6607 Hillcrest Ave, Dallas, TX 75025) is a family owned and operated. The Hillcrest location offers a great selection of women's fashion and always has something for any SMU occasion, but if you don't feel like in-store shopping your in luck because they offer an online shopping option. – Chrystalla Georghiou
Best Resale Store – Buffalo Exchange
Buffalo Exchange (3424 Greenville Avenue, Dallas, TX 75206) prides itself on having a superb collection of gently used designer clothing at a fraction of the brand-new cost. While you won't be paying full price, the fashion selection will make you look like you did. Clientele often gush at how much fun it is just peruse the store's unique and trendy collection. Customers come back again and again to look their best on a budget. – Brent Paxton
Best Cleaners – Mustang Laundry
Best Hair Salon for Girls – Salon Pompeo
Salon Pompeo (5330 E Mockingbird Ln, Suite 190, Dallas, TX 75205) is a top pick for SMU females when it comes to finding someone trustworthy to handle their locks. Conveniently located across from Mockingbird Station as an extension of the Palomar Hotel, the salon offers a 20 percent discount for SMU students for its quality services and top notch products, not to mention free bang trims. Greeted by a young, hip staff and a complementary coffee, spa water or glass of wine, any girl is bound to feel pampered at Salon Pompeo. – Avery Stefan
Best Barber Shop for Guys – The Grooming Room
Best Bookstore – SMU Bookstore on Mockingbird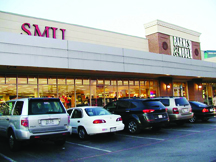 SMU Barnes & Noble Bookstore (3060 Mockingbird Lane, Dallas, TX 75205) is the most popular destination to pick up textbooks. It's conveniently located right by SMU and many students enjoy the discounts offered for used books that many online retailers may not have. Switch classes and need a book fast? SMU Bookstore is the place to go. You can always swing by Starbucks while you're out, too! – Brent Paxton
Best Wine/Liquor Store – Cork & Bottle
Best Bike Shop – Bicycles Plus at Snider Plaza
Best Electronics Store – Apple Store
Best Bank – Bank of America
Bank of America (4005 Saint Andrews Drive, Dallas, TX 75205) is not only located near SMU, it offers ATMs on campus. This added convenience makes Bank of America 'the bank' of SMU students. Students enjoy the benefit of having their picture on their ID cards which prevents theft when you accidently leave your wallet in Umphrey Lee or in your lecture hall. – Brent Paxton
Best Convenience Store – 7-11 on Hillcrest
Best Place for Your Parents to Stay – Hotel Lumen
Hotel Lumen (6101 Hillcrest Ave, Dallas, TX 75205) rests steps away from SMU and is ideal for parents visiting their kids on campus. Its convenience is only part of the attraction, however. The hotel offers a modern, upscale atmosphere complete with pool, rooftop patio, and restaurant; The Front Room. The friendly service, hardwood floors in the rooms, and fun atmosphere are all highlights for any parents staying – or any of their kids that want to stay with them. – Claire Harrison
Best Massage Therapy – Hotel Palomar
Hotel Palomar (5300 E Mockingbird Lane, Dallas, TX 75206) is pet-friendly, touts one of Dallas' best hotel staffs, has elegant rooms and houses a delicious restaurant and bar. Of course, the spa is what has locals coming back again and again. If you want star treatment with a massage to get you relaxed and a facial to make you feel fresh- faced, Hotel Palomar is your destination. – Brent Paxton
Best Place to Get a Facial – Hotel Palomar
Hotel Palomar (5300 E Mockingbird Lane, Dallas, TX 75206) is pet-friendly, touts one of Dallas' best hotel staffs, has elegant rooms, and houses a delicious restaurant and bar. Of course the spa is what has locals coming back again and again. If you want star treatment with a massage to get you relaxed and a facial to make you feel fresh faced, Hotel Palomar is your destination. – Brent Paxton
Best Make-Up Counter – Neiman Marcus
Best Place to Get a Tan – Dedman Center Tanning Pool
With a state of the art tanning pool on campus, it's no wonder SMU students have some of the best tans around. The Dedman Center Tanning Pool is strategically angled to catch the sun during its strongest hours, and partially submerged tanning chairs facilitate achieving the ultimate glow. A therapeutic fountain offers tranquil relaxation for students, which they oftentimes crave after a hard workout at the adjoining gym. – Avery Stefan
Best Manicure/Pedicure – Hawaiian Nail Bar
Hawaiian Nail Bar (3024 Mockingbird Ln, University Park, TX 75205) is a popular hang-out for SMU students during their routine mani-pedis or fancy variations on the classic treatment prior to a formal or event. The medium-sized nail salon is walking distance from campus, located next to the SMU bookstore, and offers a whole menu of spa services beyond manicures and pedicures from massages to facials to waxing services. All customers receive a complimentary beverage, and students receive a 10 percent discount. – Avery Stefan
Best Doctor– SMU Health Center
Best Pharmacy – CVS on Mockingbird
Best Flower Shop – Central Market
Best Car Dealer – Sewell
Sewell Lexus of Dallas (6421 Lemmon Avenue, Dallas, TX 75209) has been described as having 'unmatched' customer service. The founder/owner, Carl Sewell, has been one of the leading experts on serving customers. He literally wrote the book on it. It's titled Customers for Life. At Sewell, they're looking to not just sell you a car, but to establish a long-term relationship. SMU students have obviously noticed the 'Sewell Difference.' – Brent Paxton
Best Car Wash – Vintage Car Wash
Vintage Car Wash (6815 Preston Road, Dallas, TX 75205) finds itself voted the best for its combination of quality customer service and delivering on what they promise: a clean car. SMU students are busy running from classes, part time jobs and social functions. So, a quick and effective car wash (both inside and out) are what students need to keep their cars looking fabulous. Vintage Car Wash does the trick. Try their "Wheel Deal" for a great value clean. – Brent Paxton
Best Cell Phone Service – AT&T
Best Grocery Store – Central Market at Lover's Lane and Greenville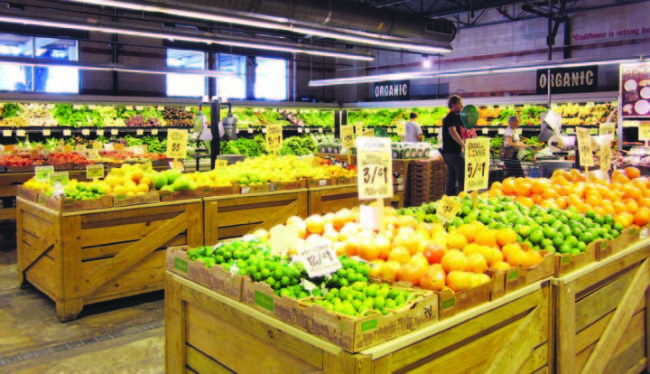 Central Market (5750 E Lovers Lane, Dallas, TX 75206) has a way of making the grocery shopping experience feel trendy, fun, glamorous and even wholesome. In other words, it's anything but ordinary. Their selections range from exotic European chocolates to local Texas grown grapefruits. The deli has been reviewed as equating "perfection." The organic selection will make your jaw drop and may even leave you scratching your head with fruits and spices you never knew existed. The flowers are fresh and come in a variety that many competitors can't offer. – Brent Paxton
Best Organic Store – Central Market
Central Market (5750 E. Lovers Ln. Dallas, TX 75206) is the ideal grocery store for foodies wanting to eat organically. Buy in bulk or from the shelf; there are a variety of organic options. There is also a wide selection of gluten-free products. If you're into samples, stop by on a Saturday for a tasting at nearly every corner of the store. – Jordan Moore
Best Pet Supplies Store – PetSmart
FOOD 
Best Cookies – JD's Chippery Looking for a local dessert? JD's Chippery is a great place to stop for a cookie, muffin or a sweet drink. JD's offers an assortment of fresh-baked goods that look, smell and taste as if they were made at home. Located at 6601 Hillcrest Ave (Dallas, TX, 75205), it's just a step off the SMU campus or a simple drive through the neighborhood away. – Jordan Moore
Best Cupcakes – Sprinkles Cupcakes
 Sprinkles Cupcakes, located in the Plaza at Preston Center, serves freshly baked cupcakes daily. Sprinkles has a variety of flavors from the traditional red velvet to the more unique salty caramel. The store even offers gluten-free cupcakes. The flavors vary by day, but one thing stays constant: the cupcakes are always fresh, moist and delicious. – Tashika Varma
Best Donuts – Mustang Donuts
Mustang Donuts (6601 Hillcrest Ave, Dallas, TX 75205) may only be open from 5 a.m. to noon, but it is worth waking up for. This historic donut shop has been serving breakfast to SMU students since 1983! But be sure to take cash and try the blueberry donut. – Chrystalla Georghiou
Best Coffee House – Starbuck's
Best Breakfast – Café Brazil
Open 24 hours with a full menu always available, Café Brazil (6420 N. Central Expressway, Dallas, TX 75205 is the closest to campus) is renowned for having one of the best, biggest, and wallet-friendly breakfasts around. Whether breakfast comes more often as a late night meal or at normal brunch hour is inconclusive, but regardless, the make-your-own pancakes are a must-try. – Avery Stefan
Best Appetizer – PF Chang's Lettuce Wraps
Best Salad – Eatzi's
Best Brunch – Breadwinner's
Best Lunch Deal – Chik-Fil-A
Best Food Truck– Ruthie's Rolling Café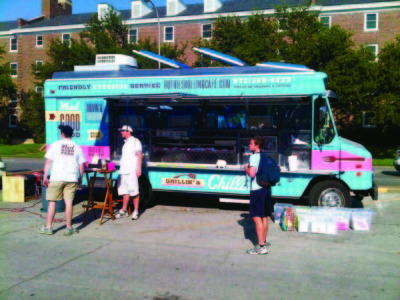 Ruthie's Rolling Café (location varies) can be found out by the flag pole on most Thursdays and in various locations in Dallas. Ruthie's offers the best build your own grilled cheese in Texas! When you see them on campus remember to bring your The Campus Coupon Book, because there is a buy one get one free coupon you can use. – Chrystalla Georghiou
Best Quick Food (15 minutes or less) – Einstein Bagels
Best New Restaurant – East Hampton Sandwiches
Best Meal Deal – Jimmy John's
Jimmy John's 6411 (Hillcrest Avenue, Dallas, TX 75205) really serves your sub so fast you'll freak. With a large menu and a delivery service, Jimmy John's offers the meal deals for the student on the go. Be sure to check out campus events to see if you can get a free sandwich card, because you never know when those will come in handy. – Chrystalla Georghiou
Best Sandwich – East Hampton Sandwiches
Best Place to Eat After Midnight – Whataburger
Best Place to Take Your Parents – Nick & Sam's
Nick and Sam's (3008 Maple Ave, Dallas, TX 75201) is arguably the most famous Dallas steak house…and with good reason! The wait staff is renowned for their attentive service and explanation of each item on the menu with detail. It's a great spot to take your family and friends to 'wow' them with a fine dining experience of Dallas' finest cuisine. – Brent Paxton
Best BBQ – Peggy Sue's
Best Burger – Twisted Root
Twisted Root (5609 SMU Blvd #102, Dallas, TX 75206) not only has great burgers but when you stop you can get a celebrity name! Featured on the hit Food Network series "Diners, Drive-ins and Dives," Twisted Root is a celebrity itself. Located on SMU Boulevard students can enjoy a beer and a burger that is "slap yo mama good." – Chrystalla Georghiou
Best Chicken – Raising Cane's
Raising Cane's Chicken Fingers (5030 Greenville Ave. Dallas, TX 75206) is a regional fast food chain that has only bounced onto the scene within the past ten years. However, that hasn't stopped this chicken finger powerhouse from constantly luring in customers. From their unique Cane's sauce to their warm, buttery Texas toast this chicken joint is impossible to turn down for a quick chicken fix. – Ryan Miller
Best Chinese Food – P.F. Chang's
Best Comfort Food – Bubba's
Bubba's (6617 Hillcrest Ave, Dallas, TX 75205) is a vintage diner that has been serving up home-cooked comfort food to Mustangs and Dallasites alike since 1981. As a converted Texaco gas station, Bubba's uses long-standing family recipes to serve up breakfast, lunch, and dinner that are all too good to pass up. – Ryan Miller
Best Pizza – Olivella's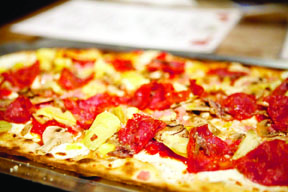 Olivella's has some of the best pizza available in Dallas, and has even been recognized by USA Today as the best pizza in Texas. Tucked away in a corner of Snider Plaza, Olivella's has an exceptional selection of artisan pizzas and specialty toppings. With selections like pancetta, prosciutto, fried eggs, truffle oil and even the juniper-flavored cured ham called speck, the crispy, thin crust pizzas here are always unique and delectable. – Tucker Keene
Best Italian Food – Patrizio's
Best Mexican Food – Mi Cocina
Best Steak – Nick & Sam's
Best Seafood – Pappadeaux's
Best Sushi – Sushi Kyoto
Sushi Kyoto (6429 Hillcrest Ave, Dallas, TX 75205) is located directly across the street from the SMU campus, and offers a full menu of reasonably priced sushi options and classic Japanese cuisine. Saki bombing is a popular attraction for students prior to going out, and even on weeknights the restaurant is rarely empty. SMU senior Chloe Carabasi describes Sushi Kyoto as "a good way to satisfy your sushi craving quickly and efficiently." – Avery Stefan
Best Tacos – Torchy's Tacos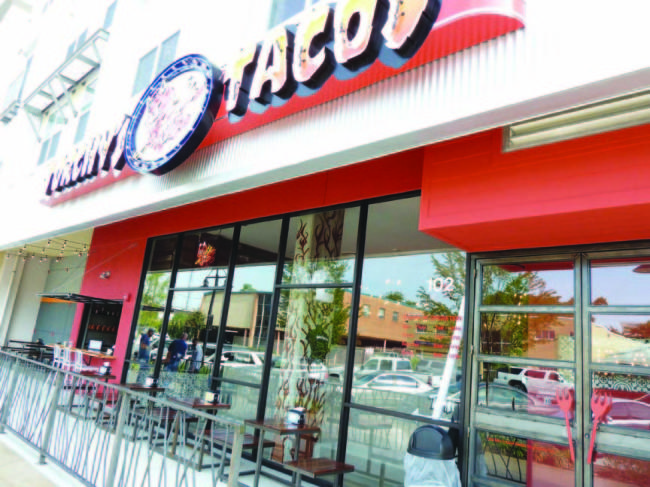 Torchy's "Damn Good" Tacos (need address) began with a food trailer and a red vespa scooter. After maxed out credit cards and a mortgaged house, Torchy's made its home in Austin, Texas in 2006. Now it serves many taco lovers across the Texas and the Dallas Metroplex. Menu choices include Mexican-style or Tex-Mex tacos for no more than $10, but their specialty is the Torchy's Diablo Hot Sauce. – Leah Johnson
Best Thai Food – Royal Thai Palace
Best Vegetarian Food – Zoe's Kitchen
Best Frozen Yogurt – Yumilicious
Best Dessert – Sprinkles' Ice Cream
A year ago, Sprinkles' Cupcakes would have been the top pick for the best dessert in Dallas. But then, an even more magical creation was born: Sprinkles' Ice Cream (8413 Preston Center Plaza Dr, Dallas, Texas 75225). Unique ice cream flavors sandwiched between two cupcake halves provide an out of this world experience for any sugar lover with a particularly large sweet tooth. SMU students can be seen frequenting the store, which is conveniently located directly next to a Sprinkles' Cupcakes and a Sprinkles' Cupcakes vending machine, only about a five minute drive from campus. – Avery Stefan
SCENES
Best Museum – George W. Bush Presidential Library and Museum
The George W. Bush Presidential Library and Museum (needs address) "serves as a resource for the study of the life and career of George W. Bush, while also promoting a better understanding of the Presidency, American history, and important issues of public policy." The 14,000 square foot Museum includes exhibits ranging from education reform to the war against terrorism and features a piece of steel from the World Trade Center, an Oval Office and a Texas Rose Garden. – Leah Johnson
Best Place to Go Jogging/Walking – Katy Trail
 The Katy Trail is a 3.5-mile trail that runs from SMU's campus through Uptown and Oak Lawn and ends at the American Airlines Center. It has a concrete path for bikers and pedestrians and a rubberized running path. When the weather is nice and students want to be active outside, many students take advantage of the secluded path that runs through our beautiful city. – Allie Zoranski
Best Movie Theater – AMC at Northpark Center
AMC at Northpark Center (8687 N Central Expy #3000, Dallas, TX 75225) is truly a unique movie experience with their many special offers such as Die Hard Marathons and IMAX 3D, students are never far from cinematic fun. Be sure to go on Thursdays for their College Night, which offers a ticket discount with valid ID. – Chrystalla Georghiou
Best Live Music Venue – House of Blues
Best Bar – Homebar
The Green Elephant (5627 Dyer St., Dallas, TX 75206), affectionately known as Homebar by SMU's students, is where many students flock to on Thursday nights. It is a short walk from campus and has affordable drink prices. There is a dance floor with a stage for the brave people who like to show off their dance moves and a back room and outside area for people who want to hang out with friends or meet new people. – Allie Zoranski
Best Beer Selection – World of Beer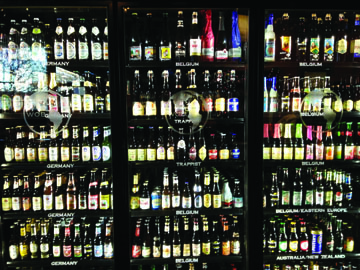 World of Beer (5600 SMU Blvd #101 Dallas, TX, 75206) first opened on December 11, 2012, and is quickly becoming an SMU tradition. With over 400 different types of beer available World of Beer is truly a unique experience every time you go. Located on SMU Boulevard students are within walking distance to the newest SMU tradition. – Chrystalla Georghiou
Best Happy Hour Drink Special – Nightly Reverse Happy Hour at Bandito's
Best Margarita – Bandito's
Bandito's (6615 Snider Plaza, Dallas, TX 75205) has long been an SMU hotspot, largely due to its margarita. The classic is popular but it's hard to miss the pink sangria swirl in the "Ethyl Margarita," which boasts a two-drink limit. The popular "Mama Grande" includes an upside-down Coronita in its fishbowl glass. Whichever margarita students choose to order, they are never disappointed. – Katy Roden
Best Cocktail – Mi Cocina's Mambo Taxi
Best Club (for over 21) – Avenu
Best Movie of the Year – Hunger Games: Catching Fire
Best Movie of All Time – Titanic (1997)
Director, James Cameron, takes the tragedy of the Titanic and turns into a heart-wrenching story of love lost in the 1997 movie of the same name. If the 11 Academy Awards do not speak for themselves then one watch of the performances from the all-star duo of Leonardo DiCaprio and Kate Winslet should be enough to convince otherwise. In 2012 Titanic was re-released worldwide to enthusiastic audiences further proving the timelessness of this movie. – Laura Sullivan
Best Music Video of 2013 – Miley Cyrus' "Wrecking Ball"
 2013 was the year of Miley Cyrus. She stormed onto the scene with her "Wrecking Ball" music video breaking the VEVO record for the most viewed clip in 24 hours with 19 million views. The art piece features a naked Cyrus swinging on a gigantic wrecking ball, and sexualizing other construction equipment. The video has garnered countless parodies and lots of attention, making it the most infamous — and best — video of 2013. – Laura Sullivan
Best Song of 2013 – "Royals" – Lorde
Best Pop Culture Moment of 2012 – Miley Cyrus' twerk
Best TV Show – Modern Family
In 2009 Modern Family exploded onto the scene redefining the way TV portrays every day American families. The colorful ensemble delivers quick wit and humor while handling typical issues most family's face today. Drawing on the popular mockumentary style, many of the characters have their own personal asides. Three focal families allow the show to jump story lines to keep things fresh. Season five began airing weekly on Sept. 23rd of last year. – Laura Sullivan