Unless you read the synopsis beforehand, chances are the musical "Spring Awakening" is nothing you expect it to be.
Indeed, when the lights came on for intermission, whispers rippled through the audience amid normal intermission chatter. "This is not what I was expecting," a fellow audience member said.
Why did Meadows put on a risqué musical? Why now, during family weekend? Why did they invite us to sit through a musical with abuse, mental illness, violence, nudity, corporal punishment, rape and profanity? These usually go on behind closed doors, not acted out on stage. Why, also, sit through an at times discomfiting, at times hilarious, exploration of sexuality?
"Spring Awakening" is a rock musical set in 19th century Germany.
Rock music. 19th Century. Germany.
The musical features a group of teenagers. The main characters are Wendla Bergmann (played by Amber Rossi,) Mortiz Stiefel (Diego Martinez,) and Melchior Gabor (Mason King.) We also get to know some other characters like Ilse (Francine Gonzalez,) Hanschen (Thomas Magee) and Ernst (Ricky Woodruff.) The show's opening scene is Wendla asking her mother where babies come from, because she doesn't believe it's the stork delivering babies anymore. Her mother, hoping to keep her daughter swaddled in childhood innocence, gives a vague answer that does not really answer Wendla's question.
This musical is about the awful, hardly dependable bridge that is adolescence. All adults in the play were played by two people: Christopher Sferra plays the vaguely named role "adult male," while Shannon Gennette plays "adult female." Sferra and Gennette deftly performed their respective roles. Between the two of them, they had to cover all parental and school adult figures.
The role of adults here was a little like the "wah wah" incomprehensible whine of adults in cartoon Charlie Brown. Many of the adults presented and mentioned in "Spring Awakening" served as antagonistic forces in the story. So, if a villain had to be named for this story, it would be the adults.
Which, if you think about it, is the groundwork for teenage rebellion.
It's fitting this is the case, since this musical is based on the play "Spring Awakening: A Children's Tragedy" by Frank Wedekind, first performed in Germany in 1906.
The musical "Spring Awakening" dances through a wide range of emotions. There were beautiful touches that really pierces one's heart. Like the way voices swelled plaintively in the song "Touch Me," or the violin and viola weaving through the sad, raw parts. The poetry of the musical's final song, "Purple Summer," depicted a growth and deeper knowledge the teens had that society had tried to beat out of them.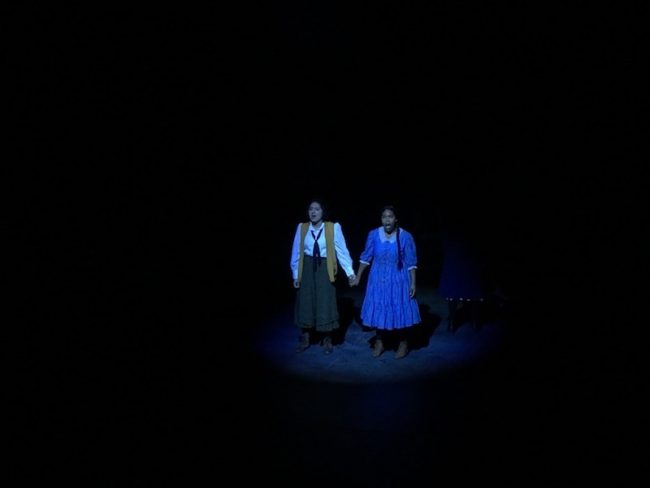 Every running of a play or musical is different. Script and lyrics may not, generally, change from theater to theater, but each theater's take on the work is unique. This "Spring Awakening" was directed by the actor who played Moritz in the original New York workshop: SMU professor Blake Hackler. The set design for this "Spring Awakening" was a ruin of items: collapsed shelves, a broken toilet, a gap-toothed piano and chipped gray columns crawling with green. The set was designed by Sarah Harris (MFA student, Scenic Designer.) The lighting changed depending on the scene's mood. For example, the lighting at the musical's beginning were traceable rays of light, like sunlight filtering through a window. The Lighting Designer was MFA student Lindsay Silva, assisted by Alysia Giakoumas and Joshelyn Hawkins.
Then there were the little touches by the Costume Designer (Amy Poe,) assistants (Amber Rossi and Gage Picotte,) and crew. Like Wendla's hair parted in two the entire play, not quite growing out of a child's pigtails nor into an adult woman's austere bun. Or the untucked shirts of a group of unruly boys, played by the same actors who play the students at a religiously conservative school.
By the actors: Spittle flying as Moritz's father yells at Moritz. Hanschen's smug glance at the audience during his scene with Ernst.
The term "coming of age" isn't something I would readily think of with "Spring Awakening." Maybe this is because this is very much a magnified exploration of attraction, while coming-of-age stories often have more themes going on in a more balanced way. But, there was the song "The Mirror-Blue Night" to remind you: "But there's nowhere to hide from these bones, from my mind/It's broken inside. I'm a man and a child."
Throughout the musical, the teens are called "children" and "child," while, at other times, they are clearly held to the propriety standards of adults. In one of his spells of philosophizing/brooding (these are teenagers,) Melchior, proclaimed atheist, dubs this oppressive parent-teacher force "the parentocracy."
"Spring Awakening" is indeed a coming-of-age story– a coming-of-age story that continuously walks the edge. The musical has all the fraught, ridiculous, tense, even cringe-worthy moments of adolescence. Here, there is no rebirth, no heralding triumph, no elegant passage into adulthood. This adolescence just was–with all its physicality and knotted up emotions.
"Spring Awakening" presents a humbling, darker (than usual) side to teenage years. It reminds you sometimes adolescence is just surviving by the skin of your teeth. SMU Meadows' "Spring Awakening" was an impeccable performance, laden with emotion.
Future show times listed below
Sunday, September 30, 2018 – 2:00pm
SMU Meadows is putting on "Spring Awakening" in the Greer Garson Theater in the Owen Arts Center this weekend.