With the 66-62 loss, the Mustangs drop out of the top 4 spots in the American Athletic Conference. The Wichita State Shockers now hold that fourth position and will receive a bye in the first round of the conference tournament later this month.
With two forwards, Isiah Jasey and Everett Ray, sidelined with injuries, the Mustangs were short in numbers and size. On Sunday, Tim Jankovich adjusted the game plan accordingly, adding a 2-3 zone and full-court pressure on the defensive end. The Mustangs looked comfortable, at least until fatigue started to take its toll.
After the loss, Isiaha Mike explained the new defensive sets had been in the team's arsenal since the beginning of the year. When asked what went wrong, Mike determined it was intensity, not schemes.
"I feel like we were moving around really effectively in the first half and the first bit of the second half, but we got flat and that's why a lot of those guys were teeing up a lot of wide open three-pointers," Mike said.
Head coach Tim Jankovich agreed with Mike's assessment for the most part, but he noted his own team's cold streak in the second half as a contributor to the loss.
"We don't have quite the numbers of course. So they got a lot of good shots. We would have won the game anyway, but we just couldn't score in the last whatever, we scored 25 points second half. Scored 12 in the last eight minutes," Jankovich said.
Despite a poor second half performance of shooting from the Mustangs, Isiaha Mike surpassed 20 points for the the sixth time this season. Mike recorded 23 points. Though, his success from the field came nowhere close to his opponent's, in the bigger picture anyways.
Wichita State guard Dexter Dennis heated up in the second half, hitting 50 percent of his shots from beyond the arc. On the day, Dennis knocked down seven three-pointers and two field goals, totaling at 25 points.
"Look at the defensive numbers," Jankovich said. "38 percent. If we're scoring remotely in the last eight minutes like we normally do, we wouldn't be having a conversation. I know how badly we wanted to win. I know how our guys wanted to finish this off on a positive note at home."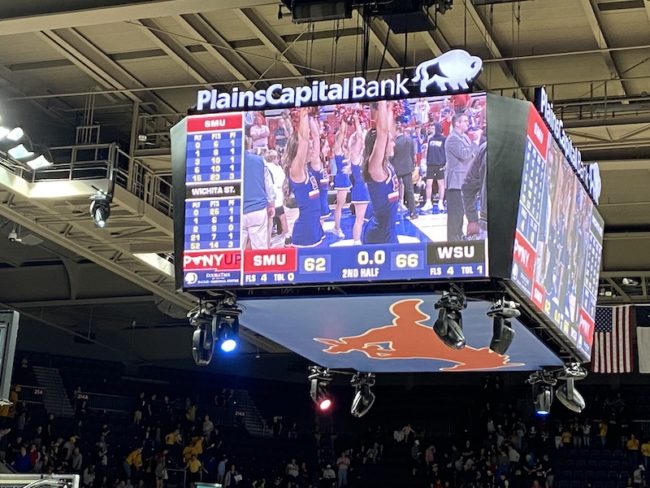 This week, the Mustangs hit the road for its final games of the regular season to face UCF and South Florida.
"Your mental fortitude, your emotional toughness, physical toughness, of course, your confidence, no matter what happened the day before, no matter what happened the play before. It's a great test," Jankovich added. "It's so hard, and it's going to be so hard to regroup and go on the road for the next game after a very disappointing loss, and yeah, that's what we have to do."