It might have been between gyms late at night in Toronto, searching for a court with a permit space, that Isiaha Mike found his self-ordained "destiny." As a 14-year-old kid driving around with his AAU coach, playing in a program that did not even have enough players to field a team, he did not know if he would play college basketball or, much less, be on the precipice of a professional career. Back then, all Mike was focused on was getting on the floor, talking on defense, leading — something in which he found solace.
In a 6-foot-5 frame even as a middle schooler, Mike stayed up late in the gym mostly to overcome his lack of skill. The training sessions, which were largely defined by the bloody lips he would get from the ball slicing through his hands as he tried to catch, came long before he would eventually place himself on the top 10 career three-point percentage list at SMU, shooting at 37.3 percent. With him and "Coach Jermaine," as Mike calls his first AAU coach in Canada now, those extra sessions were about expanding his game beyond the only thing that kept him on the floor: defense.
He retells this story with the pain of how raw his talent was back then, needing nearly an entire hand to list the things he couldn't do on the floor: dribble, catch, shoot. But he also says it with pride, understanding this was the first step in his leadership journey and his larger basketball story.
"I was one of the first five and I was the biggest guy. I really had to be that anchor on defense because I couldn't do anything else," Mike said. "I couldn't shoot, dribble, catch the ball… all I could do was talk on defense. I think that is where the leadership role really started for me, honestly."
.@Kkingzayy15 nails a 👌 and the Mustangs have the lead, 71-70!

📺 | @CBSSportsNet
💻 | https://t.co/rCt0vAEnua
📊 | https://t.co/dHW4q5tcUU#PonyUp x #AmericanHoops pic.twitter.com/xFOsdgsjDY

— SMU Basketball (@SMUBasketball) January 25, 2020
This is a journey that would span two countries, crisscross the United States to the tune of 5,208 miles of travel, incorporate four different coaching staffs and countless mentors. In a sometimes messy, sometimes neat, but always unique route, Mike's process to becoming SMU's most tenured leader was hard to define, full of stories that had the junior on the trajectory of becoming an NBA player, but equally filled with moments that could have derailed it all.
It didn't take long for Mike to graduate to a bigger basketball spotlight than the largely autonomous gyms he visited in Canada. While Mike's Twitter handle still proudly dons the phrase "Scarborough Boy," his mother and "Coach Jermaine" stood at his door one day and told him he would be moving to Las Vegas. Unbeknownst to Mike, he was about to enroll at Trinity International, a high school that is known for its year-round basketball program, a number of high profile recruits and, perhaps mostly notably, its tough-minded head coach Greg Lockridge.
"I was like 'okay.' I got on a plane a week later [after they told me]," Mike said. "When I got there it was the first time I had ever seen [Lockridge]. It was the first time I had ever known anything about him. It was brand new. Everything was brand new."
With college coaches in the gym, Mike was thrust into the spotlight. That, combined with his still-untapped talent and the constant early morning workouts at the hands of Lockridge, made this move the hardest. There would be three more to come, but Las Vegas was the difficult stop.
Mike's junior year, those frequent visits for the college coaches were centered on guys like Sam Bittner, a now professional basketball player in Spain by way of Fresno State. While Mike did not have college basketball on his radar at that point in time — he admits he was just focusing on getting through the day — guys like Bittner helped him through. Also unknown to Mike at the time, they paved the pathway to him assuming the mantle of Trinity International's leader.
"Sam was one of the only guys that survived working out with Coach Lockridge. He is a really hard coach, getting up early every single day. Sam was the leader and I took a backseat," Mike said. "I got a feel for how things were and it segued into a senior year where I could take over that leadership role better. I still have a really good relationship with Sam."
As Mike grew into a prominent role in Lockridge's program, the Canadian soon morphed from just a guy in the gym to the Division I prospect himself — mid-majors, as Mike is sure to add — but the highest level of the collegiate landscape nonetheless. He stopped playing for his Canadian AAU team and started to play full-time in Lockridge's Las Vegas system and attracted an offer from Fordham, his first offer, as well as Duquesne and Colorado State.
Ultimately, Duquesne was the destination. Before enrolling a single day on campus, however, the undercurrents of change which had become all too familiar to Mike, immediately hit. Multiple transfers on the team, who Mike had grown to know on his visits, had left. The position that Mike was set to play, once stocked with talent, was now bare. Starting all 32 games as a freshman and earning All-Freshman honors in the Atlantic 10, he capitalized on his chance.
"It was kind of like poetic justice for me almost. It was set up for me to play a starring role. I wasn't expecting that. I am telling you, the way my journey was, I was not expecting to be a starter there," Mike said while thinking back on the situation. "When I got there it all opened up."
But just as there was an exodus before his freshman year, there was another coming before his second season. The coaching staff was fired after a 10-22 year and Mike knew he would be looking to leave.
It did not take long. In fact, it was the first day that coaches could see players when SMU head coach Tim Jankovich appeared in Mike's dorm room.
Weeks later, with an offer from Oregon in his back pocket, Mike committed to SMU on the spot during his visit to Dallas. In a basketball life full of change, this would be his most long-lasting destination but not the most static.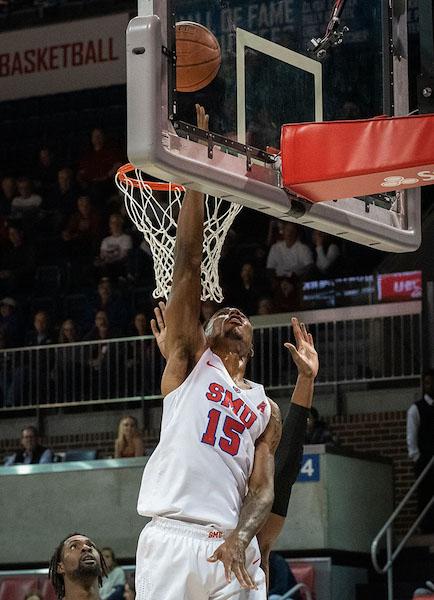 Mike came to Dallas differently than any of his previous locations. At this point in time, Mike was on the trajectory for at least a taste of college basketball acclaim. Jankovich wanted him to start, a role he did not expect right away in Pittsburgh or Las Vegas. Mike said he saw himself averaging 20 points and 15 rebounds a night and, in the distance, the NBA loomed. That was his goal; get in, produce and get out. The reality hit much harsher than this.
Redshirting on the 2017-18 SMU team that featured future NBA talent, Mike looked on, frustrated. In practice, Mike was relegated to the scout team and, for the first time, brushed to the side.
It would be a frequent battle, Mike admitted. Jankovich prefers the term "bumping heads." After getting stops on the scout team, Mike would plead with the coaching staff to let the "red jerseys" play on offense. That, obviously, was met with denials and dose of reality.
"It was stressful, man. Practices, because I couldn't play, I took practices really seriously. There were some times where the scout team would get five stops in a row and I would want to go score now. Coach Jankovich is like, 'No, stop. We are not here to work on the scout team. You are here to get the guys who are actually playing better,''' a much more mature version of Mike says with a small laugh.
Mike finished his thought by adding, "That is a concept that I didn't really grasp right away. Because of how everything played out prior to getting to SMU, I kind of had a self-centered attitude. I thought everything was supposed to be about me and I didn't step back and think about the team."
Things continued to spiral even after the redshirt was lifted. Mike struggled the first half of the season in his sophomore year, a far cry from the double-doubles he had envisioned. Mike, by his own admission, was playing for himself. Jankovich was starting to question if it was even the same guy he visited in his dorm room in Pittsburgh nearly two years earlier.
Insert Jarrey Foster. Just as Bittner had been Mike's guy in Las Vegas, Foster played an even bigger role in Mike's growth. Mike goes as far as to credit Foster as the "reason he is who he is today." The Houston native, who dealt with injuries and adversity of his own through his entire time in Dallas, helped Mike through the redshirt season and stemmed the tide in his sophomore campaign.
"Jarrey especially really helped me navigate that. Our relationship is really faith-based. Everything he has been through, he has gained my respect through that. He is resilient and a warrior," Mike said. "For him to take the time out of his day to still try to get other people better, that is who I want to be. I don't want adversity to affect me to the point I can't function and Jarrey personifies that in every way. He is probably the reason why I am the person I am today."
It was in these meetings halfway through that season that Foster and Jankovich broke through to Mike, a turning point no matter who you ask. The message was simple but its effects were far-reaching.
"Jankovich told me not to put so much pressure on myself. 'Play hard, play for your teammates, play to win.' I wasn't playing for those things," Mike said. "I was playing for myself and it showed. I was playing to win at Duquesne. We couldn't win, but I was playing hard. We had a conversation along with my other teammates like Jarrey. Sure enough, everything turned out."
Mike quickly turned the tide and those goals came back into focus. The leadership that Mike was once known for at previous stops slowly came with it. The man Mike is today, however, was not fully developed. There was one more role, perhaps his most important in life, that would complete SMU's leader— becoming a father.
Mike had a son and got married, changing him into a more patient person for a man, by his own admission, that can get caught up in basketball's emotion. The conversations he started having with his teammates were deeper. It is now a common occurrence to see Mike and Everrett Ray, his roommate since day one at SMU, picking each other's brains about a variety of topics. If not Ray, Mike could be found squatting down next to Tyson Jolly, a person he describes as "just like" him.
"My perspective had already changed before I had my son. After having him, though, it was just different. You see things differently," Mike said after deliberate thought. "Some conversations you have with your teammates that I would not have if I didn't have him. It definitely matured me right away. I have become a lot calmer and more patient at times."
He still carried the torch of guys like Foster and Bittner, but his own story demands his own take on leadership. A mixture of his life, not a carbon copy of his past, defines who he is.
"I obviously take a lot from guys like Jarrey but other influences, things like my son and my wife, influence how I lead," Mike said.
What the future has in store for Mike might very well begin to mirror the lofty aspirations he came to SMU with. Now an all-conference player, the postseason success was cut short as the season abruptly ended last month. He announced Monday he will test the NBA Draft waters, but if the league is not calling, he will be back next year at SMU.
After speaking with my coaches and family, I've made the decision to enter my name into the NBA draft. I'd like to thank everyone who has supported me on my journey, because I wouldn't be who I am without all of you. 🙏🏾🙏🏾 pic.twitter.com/KjelsB3ZqQ

— Isiaha Mike (@Kkingzayy15) March 31, 2020
"I am definitely going to test the waters this year for sure – just get some feedback. If the feedback isn't what I want it to be I am planning on coming back," Mike said.
If he is back, expect to see Mike leading on the court and relaxed in the locker room talking to his teammates about anything and everything. It is a role that the senior is not only accustomed to, but says he was destined for.
"I embrace the leadership role wholeheartedly, man," Mike said in his signature style. "This is what I have been prepared to do and what I am destined to do. I want to be a guy that people look up to. I guy people look to for advice when they need it. I want to be the guy that can help when they need it. With everything I have been through, I guess I am the guy."