The Daily Campus will update this story as more information on new cases and the university's response becomes available. Story last updated 6/16/2020 9:10 a.m.
Three SMU employees have officially tested positive for COVID-19 within the first two weeks that all staff members were called back to campus beginning June 1.
According to university officials, those who were believed to have come in contact with these individuals were notified of these cases. None of these new cases were posted on the university-wide COVID-19 blog or communicated to staff beyond the buildings where the affected employees worked.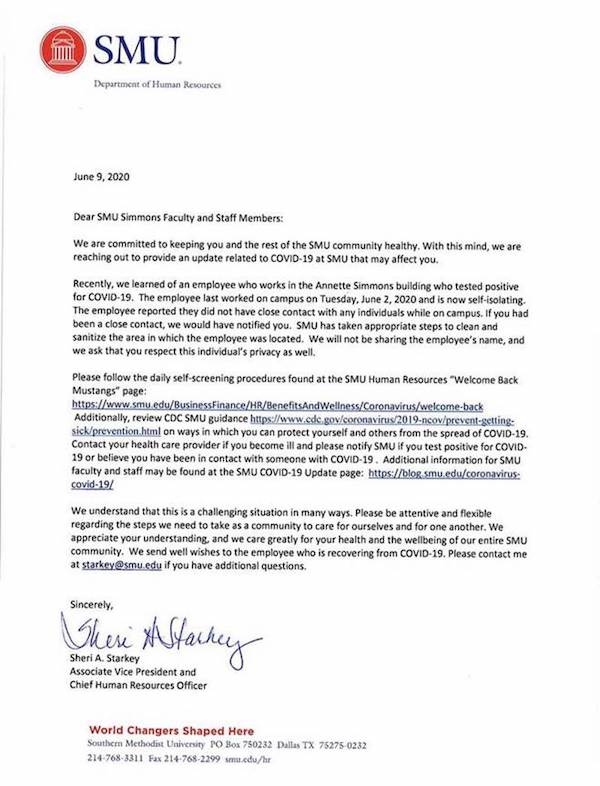 The first employee worked in the Annette Simmons building and was last on campus on June 2, the day after all employees returned. Faculty and staff who work in the Simmons building were notified by email on June 9 that an employee who worked in the building had tested positive.
When another SMU employee tested positive, this time in Blanton, staff were sent a similar email on Sunday, June 14 informing them that an employee who tested positive was last in the building on Friday, June 12.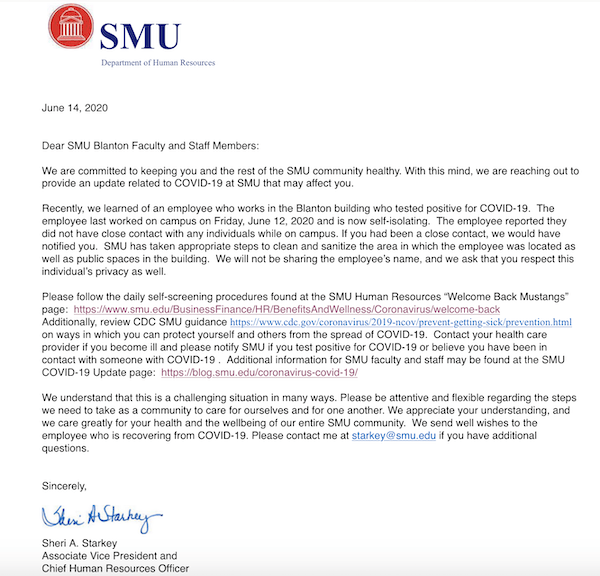 The university was made aware of a third confirmed case on Sunday. A letter went out to SMU Fondren Library West employees Monday evening informing them that a student who worked in the building had tested positive, and was last on campus June 8th.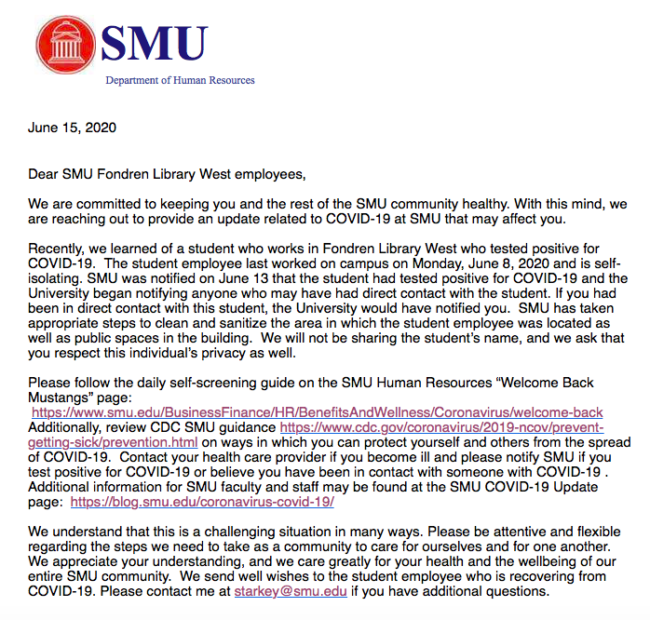 In the notification emails, employees were encouraged to follow self-screening procedures posted on the Human Resources page, revise CDC tips on prevention, and revisit the COVID-19 update blog.
A statement at the top of the blog from President Turner reads:
"Decisions we make today may be revisited tomorrow as circumstances change, but we want to share with you what we know when we know it – as quickly and as efficiently as possible. Please use this site to catch up on the latest general announcements from the Office of the President and other University administrators."
All students are currently expected to return to campus in August for the fall semester. President Turner announced earlier this month that the university will adopt additional changes, including hybrid classes and an adjusted academic semester that will transition classes online after the Thanksgiving holiday.