Hannah Allred and Jewel Boland spend most mornings together these days — their routine cemented after a month of makeshift training. Mondays and Fridays are for weights, Tuesdays and Thursdays for cardio and Wednesdays are reserved for skill work.
Fellow senior Isabelle Nashmi often joins the group, along with men's soccer players Nicky Hernandez and Talen Maples. With parks closed and SMU's training facilities limited, the more people the better. Weight training days can take the form of anything from back squatting each other to pressing cars.
"We had to be creative and figure it out," Allred joked. "Sometimes we will do the men's (training) packet. Sometimes we will do ours."
But when the cobbled together workouts are over, that is when the real work for Allred and Boland begins — both senior leaders charged with filling the void left by graduated forward Allie Thornton.
Allred will often devote time to exchange texts with other players to check in on how they are feeling with the team sequestered for nearly four months. The topics of conversation can be anything from soccer to the day-to-day of life in quarantine.
Celiana Torres and Tatum Sutherland are usually at the top of the list for Allred, two starters who tore their ACL and underwent surgery right before the pandemic engulfed all aspects of life. As Allred says, it is a small gesture to make her two teammates feel less secluded during a rehab process being done almost entirely away from the team.
Boland does the same — many on the team have told her at different points that she is a mentor of sorts. The weekly Zoom call with the entire group is what both senior leaders look forward to most.
For Boland and Allred, their leadership this season will be a large part of the legacy they leave behind for SMU soccer, especially in navigating a season unlike any other amid the coronavirus.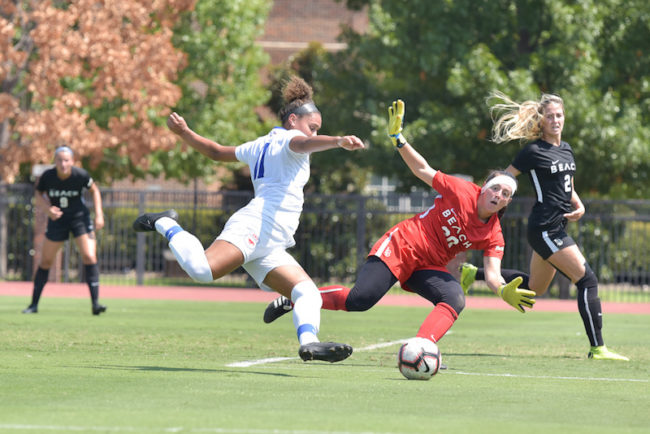 Their new role extends off the field, but also very much on it. This year, head coach Chris Petrucelli is leaning on his two seniors to be the leading goal scorers on a team that is searching for answers on offense for the first time in four years. With Thornton's absence from the roster, there is suddenly a chasm in the goal scoring department.
Thornton, who now plays for Le Havre AC in France, had her named splashed all over the SMU record books. Top 10 in goals (37), game-winning goals (13), shots attempted (199) and shots on goal (67), she was quite literally SMU's offense for the last four years.
Thornton was also the first player since goalkeeper Erin Poole in 1999 to be nominated first-team all-conference all four years of her playing career. Poole did so when SMU was transitioning from the Southwest Conference (SWC) to the Western Athletic Conference (WAC) to put that feat in perspective.
"She was a proven goal scorer… That is an area where we are going to need to find some goals," Petrucelli said. "I think [the goals now come] naturally from Allred and Boland."
Allred and Boland have a combined 43 starts in an SMU uniform and chipped in 11 goals last year. Their respective resumes are what make them the natural heirs.
Allred is the four-year homegrown talent from Fort Worth who has contributed since her first game. Boland is the junior college transfer from Portland, Ore. who associate head coach Mat Cosgriff found during her freshman season at Highline College.
Their stories have intertwined for the past year in the lead up to the Thornton departure. Even though the two rarely talk about the undertaking of their new role, they silently understand this is what they have been working towards.
Allred noted she could feel it slightly in 2019 when she came on to a major role before suffering an ankle injury in the non-conference portion of the schedule.
"(Last year) it was kind of changing from just Allie, to me and Allie (as leaders)," Allred said. "For the team to be successful (this year), we have to score. That falls on me and Jewel."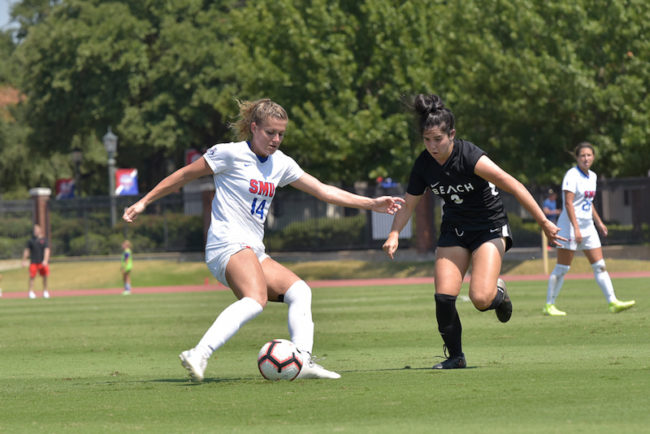 Boland, too, had a junior season that parlayed perfectly into a spotlight her senior year. Halfway through last season, her first at SMU, Petrucelli remembers Boland coming up to him and telling the coaching staff the difference in the level between JUCO and Div. I. The conversations were ongoing about the uptick in difficulty until end of the year when Boland started to find her niche in the offense. She finished with six goals and 14 starts, mostly towards the end of the regular season.
Both players contend, though, that filling Thornton's shoes is less of a responsibility and more of an aspiration. It is something on their minds, but not something that consumes them.
"We all have our role on our team but, at the end of the day, it is a team collective. I can't do it without Hannah, and Hannah can't do it without me. I can't do it without the defense, the goalies. Everyone is a part of that," Boland said in a phone interview. "Even though it is a big, scary thing to think about, with everyone's help it can be achieved."
Petrucelli said that he believes that both players could follow Thornton's lead and play professionally. The level will likely depend on the type of season each player can put together.
For now, though, Allred is more concerned with leaving a legacy of winning. She answers the question about her proverbial stamp on the program with a conglomeration of wanting people to remember her work ethic, to taking the program where it hasn't been since 2016, an NCAA tournament.
"I would love to win a conference championship and a ring. That is the goal for this year," Allred said. "… [Jewel and I] are going to have blaze the path ourselves and put our stamp on the team.