Chris Petrucelli had untouched training plans on his desk ready for the day after spring recess. In fact, he had details and outlines draw up for each day of the week his team was scheduled to return to campus back in March.
No one ever returned. None of the plans were ever used.
To Petrucelli, it was a very physical, if not poetic, reminder that there is no playbook for leading a college program amid the coronavirus.
All the normal luxuries associated with college soccer — a set schedule in June, travel arraignments to get players back to campus, even the way preseason workouts are structured — have been thrown into chaos. Constructing a simple practice plan, that used to be the heart of a preseason training regiment, now seems to be the most trivial task of all.
And if the staff needed any other reminder of that, Boston University provided it on June 22. The Terriers canceled the non-conference game scheduled in August between SMU and BU in Boston. Petrucelli told the team of the news in a meeting this morning at 11 a.m.
"There is a lot of uncertainty. Everyone is hopeful we are going to have a season just like every other one. Everyone is working under the assumption that it will happen," Petrucelli said in an interview with The Daily Campus. "But I think none of us would be shocked if things changed along the way."
While Petrucelli noted that BU initiated the cancellation, he was not without his own reservations. He indicated that had Boston not informed his staff earlier, he may have called off the contest himself.
"Honestly, I was leaning toward canceling it anyway. I just was uncomfortable with putting our team on a plane in August and flying into Boston," Petrucelli said on the day the game was canceled in a phone interview. "… Travel is a concern right now."
Many Texas schools have been actively exploring options to schedule in-state teams to fill up the non-conference slate to avoid air travel. Petrucelli acknowledged that is occurring, saying teams are "just now figuring out what their plan is."
For SMU specifically, though, the head coach was less concerned with the non-conference scheduling scramble and more with the American Athletic Conference season.
Although the official 2020 schedule for SMU has not been released yet, Petrucelli indicated that Boston University was the only game within flying distance in the non-conference slate for his program. That said, the AAC schedule includes SMU traveling numerous times by plane. Last season alone, SMU played four conference, regular season road games in four different states including Pennsylvania, Tennessee, Connecticut and Oklahoma.
The game of particular concern, for Petrucelli, would be a road contest at Temple in Philadelphia.
"The season is changing rapidly. People changing games, canceling games… [Some of our conference games] are looking a little bit iffy at this point. The travel, for example we have to go to Temple. I'm not sure Philadelphia is totally open at this point," Petrucelli said. "… What we know right now might be totally different next week than what it is today."
The schedule will likely not be finalized until August, according to Petrucelli. There are weekly meetings with the conference and coaches around the league to discuss possibilities.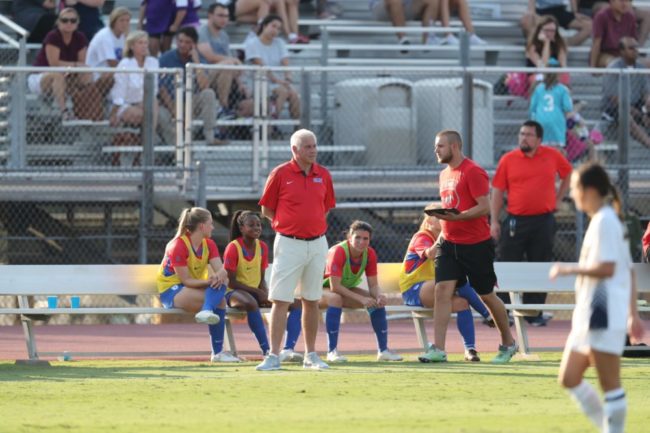 In the meantime, the program will have other concerns at hand. Getting his players back to campus is one of them.
Incoming freshman Jordina Colomer, from Manlleu, Spain, is still unsure if she will be able to enter into the United States with the COVID-19 travel restrictions in place. The defender is in frequent talks with Petrucelli and the coaching staff, but the decision will largely be out of all of their hands.
"We don't even know if we are going to have all of our players in… she can't get in the country. There is still a lot up in the air," Petrucelli said.
Colomer is the only European player on the roster. Three players are from Canada, but some have stayed the summer in Dallas.
As states like New York, New Jersey and Connecticut put up different inter-state travel restrictions and quarantine measures, that could become another travel concern for the program. 12 players on the roster come from states outside of Texas and some have not returned to campus at this date.
For those who can get on campus, though, the training and the season will likely be nearly unrecognizable from years past. From a physical standpoint, the staff is reworking training schedules to reflect the lack of physical activity most players have been able to manage since March. Petrucelli said the preseason will have to be much "slower" than he is used to as nobody has played in a game since the winter.
The staff is also preparing for the "inevitability" of playing games without a full roster. With players getting sick in the middle of the season, quarantining for two weeks or more, it is a reality not lost on Petrucelli.
"It is going to be day-to-day. Who tests positive? Who is in quarantine? All of these things that are possibilities and, I guess at this point, more likely probabilities," Petrucelli said.
"Just looking around the country at different sports leagues, maybe it is more of a probability that [people get sick]," Petrucelli continued. "We are going to have to try to win games without all of our players. That is not just us, it is everyone across the country."
In team meetings, the coaching staff has attempted to relay information to players and parents. He tries to stay away from specifics, since they are ever-changing and sparse, but frequent updates are doled out. He talks to the entire team once a week and texts or calls multiple individual players on a daily basis. In any conversation, this is the biggest topic of conversation.
"What does the season look like? What do we know right now?" Petrucelli said of some questions he fields from players. "A lot of the stuff [we talk about] isn't surprising to them. But they don't quite know yet. This is a different time and there is no playbook. We are kind of making it up as we go along. We have a lot of adjustments to make."