For Zhuric Phelps, development has always been a priority.
In his junior year of high school, he averaged 7.9 points, 2.9 rebounds, 1.8 assists and 1.5 steals from the bench for a Duncanville team that finished 29-5 and had reached the state semifinals before the tournament was canceled due to COVID-19.
By his senior year, as starting point guard, those numbers had more than doubled, as he finished the season averaging 15.2 points, 5.1 rebounds, 3.9 assists and 2.1 steals in a season where he led Duncanville to the Texas 6A State Championship.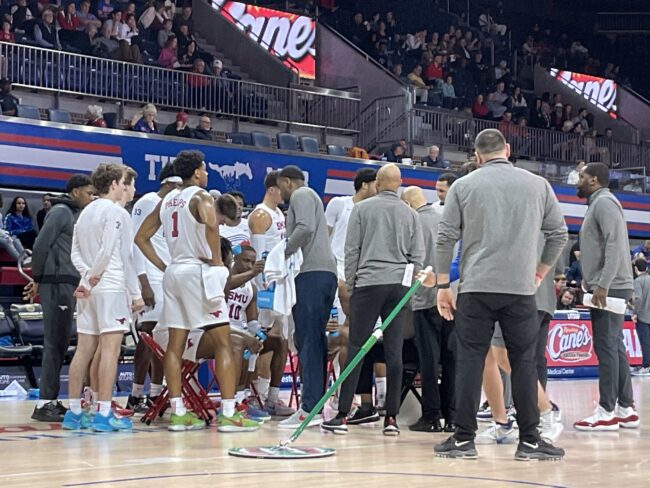 "Taking an advanced role during my second year at Duncanville significantly helped my development," he said. "It was rough at the start, but I learned a lot from the coach and my teammates and began developing my game."
Entering the second year of his college career, Phelps's prospects point towards a similar trend.
And despite all the accolades he has garnered, to Phelps, the most important thing is what he calls his "inner circle" – his family, friends and coaches.
"My circle has helped me prepare for this level I find myself in today," he said. "These individuals have gotten me to the right places and now I have to work on myself to repay their support."
Even Phelps's decision to stay in Dallas was based on his strong attachment to his family. During his senior year, his brother Evan Phelps sustained an injury, prompting him to remain in Dallas to support him in recovery.
"Getting an offer from SMU was a big thing for me after Evan's injury," he said. "I just wanted to be close to him and help him through the healing process. Now seeing him prepare himself mentally and physically for the new season is a great sight to see."
Looking to the oncoming season, Phelps is sure that both he and his team are heading in the right direction under the tutelage of the new head coach, Rob Lanier.
"This coach is different," he said. "Not a lot of people can say they have trusted a coach from the start, but everyone in that locker room has complete faith in Coach Lanier. We're going to be just fine."