Twelve years ago. That was the last time SMU student Simon Affi set foot in Syria. Since then, the barriers of distance and war have taken away his chances of saying goodbye to countless family members. And as he mourns their losses, in the face of the recent earthquakes in Syria and Turkey, he also mourns the loss of connection to his country.
"Being so far away from Syria and the Middle East, you don't get to say goodbye to people that you really care for and love," Affi said. "And it just adds up."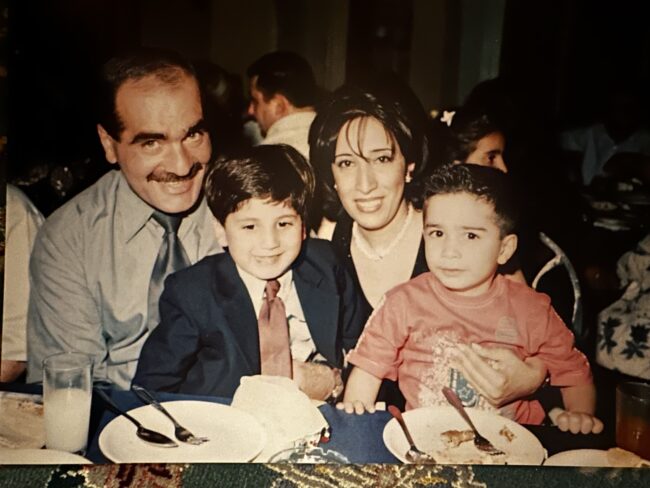 For Syrians across the United States, this is their reality. SMU student Sally Ayass hasn't visited Syria since the war began. And for SMU student Veronica Seeling, she yearns to visit a country she has never seen, one that she has felt disconnected to for so long.
But a part of these students lies in Syria, and their hearts break each time the country is faced with violence and destruction. According to the United Nations, the deaths from the earthquakes in Syria and Turkey have surpassed 50,000 casualties. Nearly 6,000 of these deaths were in Syria.
"Hearing about the fact that it happened in general is devastating but knowing that there are people [who] are my blood relatives being affected by all of this is something that's hard to wrap [my] mind around," Seeling said. "I've never been there. I have no idea what it's really like. All we know is what they tell us or what news tells us. It's just something that I feel like we have to act on."
As president of the Arab Culture Club, Seeling wanted to get money to the victims of the earthquake. Affi, president of the Sigma Chi fraternity, felt the same. The two organizations banded together to set up a fundraiser that will donate to both Syria and Turkey. The fundraising event will take place on March 5 and proceeds will go to the White Helmets in Syria and AKUT in Turkey.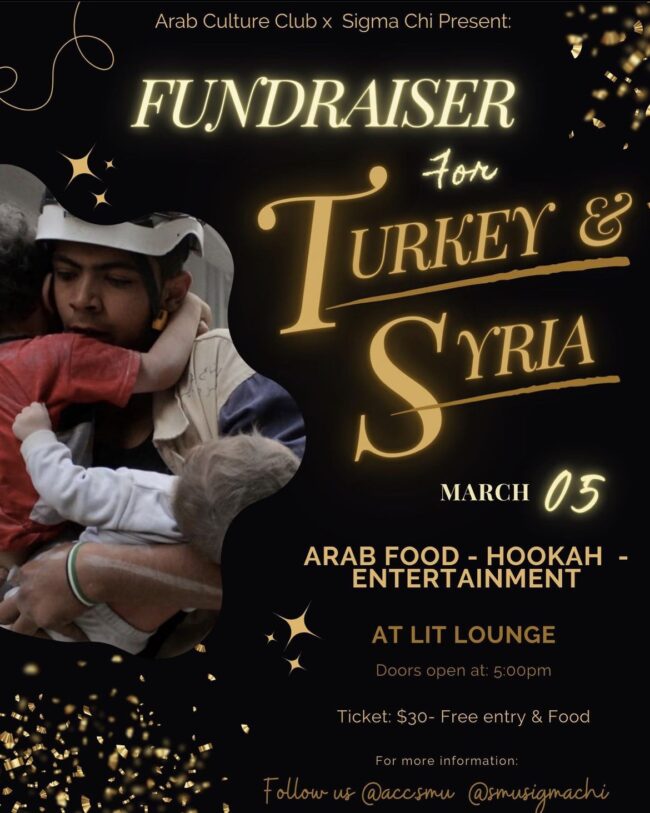 The Arab Culture Club raised $2,200 in their last fundraiser, where they sold Bundt cakes and donated profits to the White Helmets. Seeling hopes for a similar outcome and urges SMU students to help contribute to those affected.
When the earthquake hit on Feb. 6, both Seeling and Affi knew they had family in the affected area.
"After it happened, I called my mom and I was like, 'do you know if our families like okay over there,'" Seeling said. "She immediately called my family [in Aleppo] and found out all of their homes were destroyed, they had to flee south, but thank God, like they weren't injured in any way."
For Affi, it was also a breath of relief to hear his family was uninjured. Their houses in Aleppo were destroyed and their living conditions uprooted, but their lives were spared. After the earthquake hit, his family members headed to other areas of Syria to stay with family members.
When Ayass asked her family in the area if they were safe and if they felt the earthquake, her cousin had a grim response.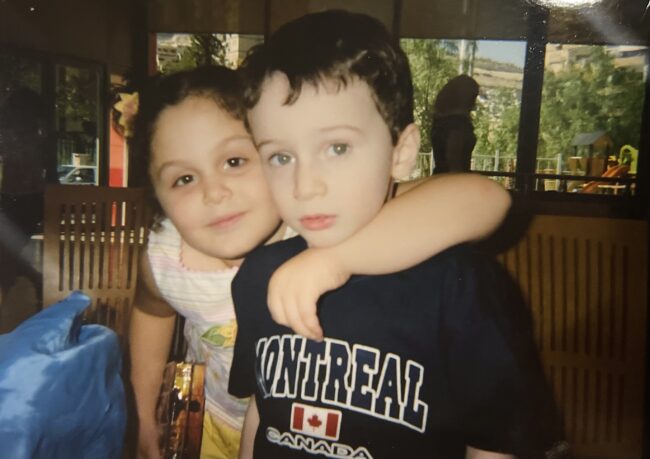 "I asked my cousin, 'how do you feel about the earthquake? Like are you okay?'" Ayass said. "And he was like, there's nothing worse that can happen than this. He's, like, totally desensitized."
The country has suffered a tremendous amount of trauma over the past decade. According to the U.N. Human Rights office, approximately 306,000 civilians have died since the start of the Civil War in Syria.
Numbness is the word all three students use to describe facing the reality of war, violence and disaster for so long. Numb describes the feelings after the earthquakes of the people within Syria and the people outside of it.
"They're just so used to these things happening over there," Seeling said. "That they're like, oh, just another day, another day in Syria."
But it's not just a numbness that Syrians have gained, Affi says, its resilience and strength to strive for the beautiful country Syria was and continues to be.
"It seems like they just keep getting hit when they're down, you know, [when they're] starting to finally recover from the Civil War. And just like that, something like this can happen out of nowhere," Affi said. "But I think Syrian people are very strong people and they've dealt with a lot. It's a great beautiful country, and people will come back even stronger. I actually believe that."
Syrian residents voice their feelings through writings on the rubble of the earthquake: "WE ARE DEAD" written on wrecked buildings, "YOU DIDN'T HELP US" etched in concrete, "YOU NEGLECTED US" painfully felt.
"People tend to forget about the Middle East, even if it is in the headlines," Seeling said. "A lot of Americans are just conditioned to thinking that, you know, suffering is normal in the Middle East, which is not the case whatsoever."
These students feel the instability of the area and the normalization of its pain has directly impacted the aid Syria receives. The difference between the aid and help received by Syria with the aid to Turkey is a result of the allies Turkey has and the negative political association with Syria, Seeling says.
"I think when donating to Syria, for some reason, there's this political affiliation that's associated with it. And it's like people are afraid to donate or to help Syrians because they're getting involved with something that will never be fixed," Seeling said. "The mistake people make is associating the government's actions with civilians as well."
Ayass says she used to visit Syria all throughout her childhood, recalling a ball-pit in her favorite mall in Damascus. But ever since the war, she feels like there has been a loss of identity.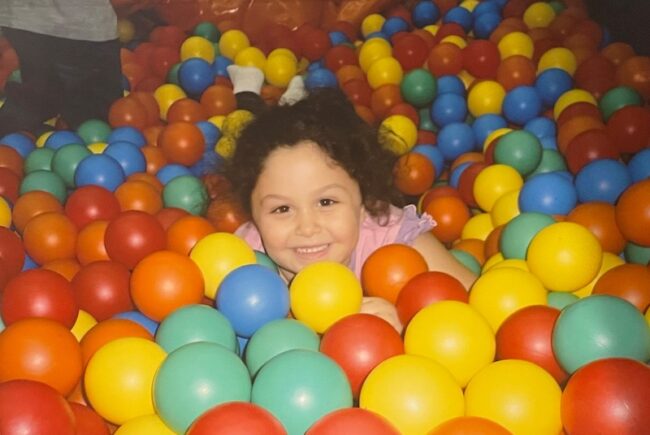 "I feel like so many people that I meet at SMU are like Palestinian, Jordanian, all of these, you know, nationalities [that] feel so much pride for their country," Ayass said. "And when you meet a Syrian person, it's almost like, they don't have anything to say."
The future threat of earthquakes and instability still looms over the country, and Seeling and Ayass fear what lies ahead.
"You can't predict earthquakes but they're pretty sure that this is going to continue happening," Seeling said. "And that means that these buildings already hanging on by their last limb are gonna go tumbling down. And I think that no one is talking about that."