As the news of Kobe Bryant's tragic death spread throughout the nation and the world, people turned to social media to express their reactions and share the grief. One of these people was SMU's record-holding wide receiver James Proche.
On Sunday, January 26, a helicopter carrying Kobe Bryant, his daughter Gianni and seven others crashed and went up in flames in Calabasas, Calif., killing everyone on board. Kobe Bryant was arguably one of the best basketball players to ever play the sport and an iconic figure for Los Angeles and the NBA. He began his career on the Lakers and remained on the team for 20 seasons before his retirement in 2016.
When Proche heard of the tragedy, he tweeted "there is no channel 3 without you mamba" along with other messages of grief over the loss of Kobe Bryant.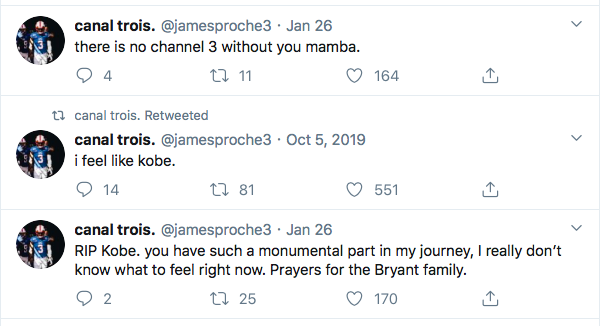 Proche, who recently accepted an invitation to the 2020 NFL Combine, is known as "channel 3" acknowledging his jersey number and those "tuning in" to his performance on the field. The All-American, who led the team to its best season since 1984, said he wouldn't be the same successful player without the influence of Kobe.
"My work ethic blossomed from watching him work," Proche said. "His attention to detail and relentless drive to be the best at whatever he did poured into me at a very young age."
The drive that Proche imitated from Kobe is known as the "Mamba Mentality". Proche said Kobe's impact reached beyond basketball because "work is work" and Kobe's mentality for success doesn't just apply to sports. To Proche, Mamba Mentality is simple.
"Work until you are the best that you could possibly be," Proche said. "Be consistent in your approach and relentless in the pursuit of your goals. There's no room for excuses when you adopt that mindset."
The impact of Kobe on Proche was seen through social media long before Kobe's death. In 2017, Proche posted a photo of Kobe on Instagram calling him his "idol".
"From as early on as I can remember, I've always been a Kobe fan," Proche said. "He was my idol and my hero."
A strength and conditioning coach at SMU said he saw a connection between Proche and Kobe through Proche's competitiveness and work ethic. Kale Igboh, co-Director of Human Performance at SMU, said Kobe was a big role model for Proche because Kobe drove himself to be the best every day. In the same way, Proche's work ethic drove him to be the best he could be every day in the weight room and at practice. Igboh said his work ethic played a major role on the team this past season.
"He had an incredible role. He was a big leader in whatever we did," Igboh said. "James is extremely competitive. He doesn't want to be last. He doesn't want to be second. If it's not first, it's not good enough for him."
Head SMU football coach Sonny Dykes echoed Proche's role of leadership on the team. He said Proche is ultra-competitive and the rest of the players learned to compete by watching how hard he worked and competed in practice. Coach Dykes said Proche matured by leaps and bounds in the two years SMU was able to work with him.
"That maturity provided leadership and taught our young players about being a professional," Dykes said. "A professional who came to work every day ready to get better and did everything possible off the field to enhance his ability to perform.
Igboh said Kobe's influence on Proche and the rest of the team through Mamba Mentality was seen through a daily pursuit of excellence. Igboh said he, along with the rest of the staff, challenges the team with, "How can you get one percent better than you were yesterday?"
"Mamba Mentality is making sure you have a daily aggressive pursuit of excellence," Igboh said. "Not just being good enough, it's got to be the best you can be physically and mentally execute and nothing short of that."
Igboh said, personally, Kobe had a great impact on him and how he lives each day. This impact on the whole team caused the staff to play Kobe's highlights on the televisions in the SMU weight room the week following his death. Igboh said it was shown as a tribute but also as a reminder of human morality that athletes often forget.
"Appreciating his legacy but understanding that we are all on borrowed time," Igboh said. "We need to make the most of everything that we are doing."
Dykes said while Kobe's Mamba Mentality greatly influenced Proche, the team, and many other young players, Kobe's greatest impact on him personally was his role as a father.
"His bond with his children and his burning desire to be a better dad and husband than he was a player will have a lasting influence on society for years to come," Dykes said. "The #girldad movement and the challenge to really connect with your female children will be as relevant as his championship trophies."
Kobe's reach went far beyond the basketball realm and the city limits of Los Angeles — further than many knew until his life was lost. James Proche said without the effect Kobe had on him, he wouldn't be the same player or leader on the SMU football team. He's not even sure the season would have been as successful, without Kobe's influence.
If he could tell Kobe one thing right now, he'd say, "Thank you. You've helped make my dreams a reality."