The Frisco Bowl was canceled because of COVID-19 issues within the SMU program. Some called it "tough." Maybe, though, the right word was fitting.
There was a certain symmetry between everything that happened last Tuesday and the start of SMU's football season.
The abrupt end to the 2020 campaign, the cancellation of the first bowl game in December, the frenetic scramble to find different teams to play — a routine that has become a staple as college football schedules have been decimated by the coronavirus — all of it sounds oddly familiar.
Most importantly, the same questions hovered over whether it was responsible, or even possible, to play college football as COVID-19 ravages Texas and the country.
This was the scene as SMU withdrew from the Frisco Bowl last week. A team that had played 10 games in a row had its last two games canceled because of coronavirus positives within the program. It just goes to show this virus, no matter how many times people try to will it away, will seep into every facet of life.
Rick Hart and Sonny Dykes issued statements emphasizing how tough a pill it was for the seniors to swallow. The last time SMU did play, all the way back on Nov. 28, not a single person in pads knew it would be their last game.
Of course, that is true.
But maybe instead of tough, the right world for how SMU ended its season is fitting or at least appropriate. How else should a season like 2020 end? Normally? No, and maybe it shouldn't have ended normally anyway.
You see, if somebody told you that Tuesday, Dec. 15, was Saturday, Sept. 5, you may not recognize the difference or even notice at all.
Sept. 5 was the day SMU started the 2020 season. It played in the first FBS football game in Texas in San Marcos. It was on the heels of the PAC-12 and Big Ten canceling their seasons. At that point, an anonymous athletic director in the PAC-12 said that colleges who were going to try to play college football were just willingly ignorant to the virus' potency.
Dec. 15 was the day SMU's football season came to a close. In that same week Duke head coach Mike Krzyzewski questioned whether college sports should be playing amid a pandemic. Former President Barack Obama equated college sport's response to COVID with a disaster.
"You have 2,000 deaths a day. You have 200,000 cases… Should we not reassess?" Krzyzewski belabored.
Same tune, just a different day.
And for those of you saying there has to be some change in four months of time, it can't all just be leaders calling out the flawed thought process of playing college sports in a pandemic, you would be right. I did leave out one major difference: The increase in cases.
On Dec. 15, there were 1,947 positive COVID-19 cases in Dallas reported. On Sept. 5, 195 people tested positive for COVID-19 in Dallas.
We were told by athletic directors and conference commissioners across the country that college football could play because the cases would go down as the season played out. That didn't happen. We were told it was for the interest of the players. That, too, appears not to be the case.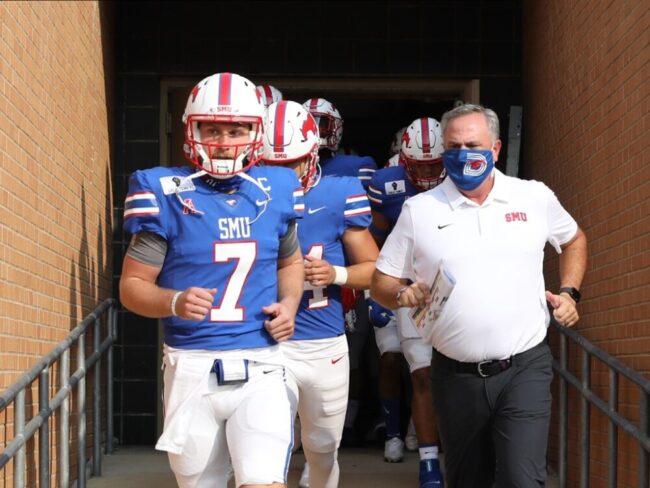 Of course, a lot happened durning those 101 days. A lot of it even threatened to divert our attention or make us forget about the coronavirus altogether.
The walk off kick against Memphis comes to mind. On that bright afternoon, Chris Naggar's leg sent SMU to a 5-0 start and a win over a ranked Tiger team.
Then there was the nationally televised Tulsa game where SMU had a chance to punch its ticket to the conference championship game. A 21-point collapse wasn't what SMU wanted, but it still felt like football.
There were the other moments too, more mundane but equally "normal." The post game fight songs being belted in the locker room with Dykes and his players after a win looked like the sport America has readily ingested for a decade.
The celebrations after scores and the normal storylines of injuries, breakout players and the ebbs and flows of a season all distracted people.
But just when SMU thought it could get the "normal" end to its season, a bowl game appearance, the coronavirus intervened. The questions of why football is being played at all knocked louder. The story came full circle.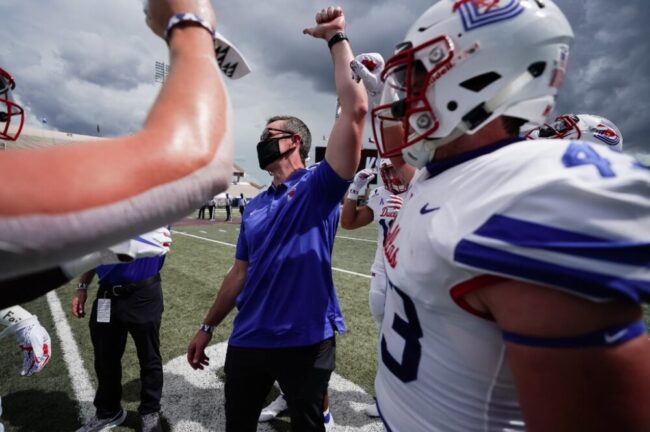 When looking at the course of this year, the questions of coronavirus were never gone even if they were forgotten.
At SMU, it was certainly easy to forget. After welcoming back student-athletes to campus this summer, SMU changed the way it reported coronavirus data. By the time the season started, it was no longer reported how many football players had COVID-19.
Dykes tweeted during an early week of the season that all traveling players had tested negative for the virus, with no additional context. Then, after an absence of tweets, he dropped into conversation at a media availability that three SMU football players had tested positive for COVID this season.
Comparatively to other schools, this was a low number. But the premise that three players tested positive and it was never reported was a metaphor for college football has tried to push the virus out of the communal discussion.
All this time, we have seen the toll of the coronavirus play out silently like this. A recent New York Times report indicated that 6,628 student-athletes have tested positive for the virus across the country. That is a low number, too, because many teams are like SMU where numbers go unreported.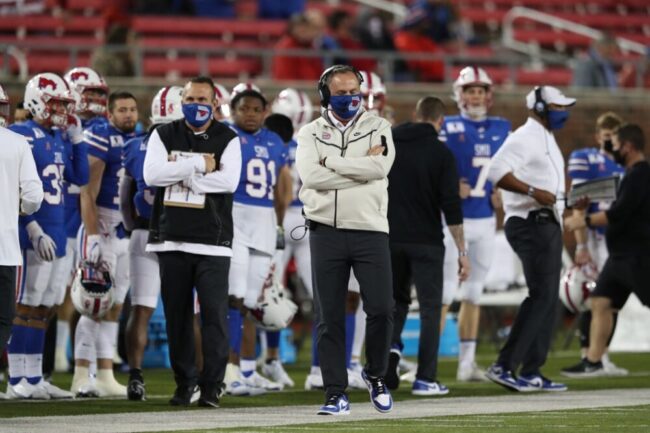 Maybe all of this is the ramblings of a sports reporter who traveled to Tulsa, San Marcos, Denton and Dallas to document a season unlike any other. Maybe it was through the coaches, players, student managers, fans and even radio spokespeople that I have talked with, on and off the record, that inform this opinion.
But as I write this, on the day I would have been sitting in a press box in Frisco watching SMU put a bow on this coronavirus season, I can't help but think this cancellation is the only way this season could have ended.
The 2020 season comes to a close with the same questions that were asked when it commenced. They aren't new, but they still aren't answered. These questions are also well beyond just SMU.
Should college football be played in a pandemic? Should student-athletes have a say in the ad hoc protocols that were put in place across the country? How much longer can this dynamic of student-athletes not being able unionize or receive compensation for the million-dollar industry they support last?
None of these questions will be answered right now, but at least is something to think about as SMU does not play today.
And since the season ended and started the same way, an anecdote from September is as relevant today as it was then.
At Texas State, SMU's first opponent of the season, head coach Jake Spavital kept remarking about the parking lot. As Texas State pulled up to the game that day, Spavital didn't see any tailgating or people outside waiting to get in the game. It was just empty.
These are the types of stories that aren't talked about or broadcast. But it is very real when you are there.
In a way, that is what this entire season has been. Television broadcasts, college decision makers and sometimes even universities have tried to make it seem like the coronavirus was managed on the outside. For the people actually there, though, it never was. It was always there.
Fittingly, the coronavirus will have the final say on this 2020 college football season. That stands for SMU, and the rest of the college football landscape.