James Stavridis and Fareed Zakaria discussed America's political, social and economic state with professor of public service and former presidential adviser David Gergen, who moderated Sept. 12 during SMU's first Tate Lecture of the academic year.
Stavridis is a retired U.S. Navy four-star admiral and former supreme allied commander of NATO who currently serves as the Vice Chair for Global Affairs of the Carlyle Group. He is also the Chair of the Board of Trustees of the Rockefeller Foundation.
Zakaria is the host of Fareed Zakaria GPS on CNN, a journalist and best-selling author of four books.
Nearly 1,600 attendees gathered in McFarlin Auditorium to hear the three experts speak.
With an upcoming presidential election, Gergen opened the discussion with the "1000-pound elephant in the room:" the danger of a failing democracy in the United States.
America has a diverse population, natural resources, cultures of innovation, and a network of allies on its side, Stavridis said.
"I remain cautiously optimistic about the United States," he added. "I always love to open a talk by saying, in the midst of all our deep concern about where the world is going, don't bet against the United States."
Zakaria also emphasized America's strengths, noting the country's unmatched military, good demographic shape and reserve currency — the dollar. But he underscored the challenge of preserving the system of constitutional government, especially in the midst of an election season with a potentially capricious presidential nominee.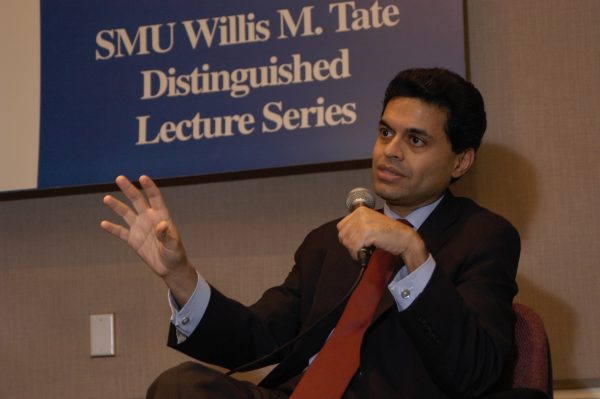 "We are headed for a political and constitutional crisis in two years," Zakaria said. "I worry that that means more undermining of American institutions, more undermining of faith in American democracy, and more undermining of our position in the world."
Gergen focused the conversation by bringing up society's loneliness and pessimistic outlook as reasons for institutional paralysis and societal divide.
"We're going to need to really rally this country soon," he said.
Zakaria added to Gergen's points. Society becomes highly individualistic without community, he said.
"When you take [community] away from people, they get very lonely," he said. "I think that this actually relates to politics; you get very angry and bitter because you don't have a sense of place."
Stravidis proposed two solutions for Gergen and Zakaria's discussion about the societal divide. Stavridis believes that an additional political party and acts of service may bring more people together.
"There are so many ways to serve this country," he said. "I think programs that incentivize acts of service can make enormous sense in this."
The guests closed the forum with optimistic words for this country.
"The most important strength of the United States is that 17-year-olds all over the world look at the United States with admiration, with reverence," Zakaria said. "I still see that country, and I want to believe that others do as well."