SMU remains undefeated at home after dominating Charlotte 34-16 in their American Athletic Conference (AAC) opener on Sept. 30.
SMU comes off a loss to rival TCU last week in what may be one of the last Iron Skillet games.
At the post-game press conference, head coach Rhett Lashlee said the win "was vital."
"Anytime you can come away with a double-digit conference win you're going to be happy," he said. "Your conference season is a big deal. To start 1-0 was huge."
SMU fans were hyped up after seeing President George W. Bush conduct the coin toss and SMU quarterback Preston Stone delivered, rushing for 15 yards for a first down. SMU continued downfield with ease as Stone was able to complete a 12-yard passing touchdown to wide receiver Roderick Daniels Jr. The Mustang defense in the first half stopped multiple runs at the line of scrimmage and caused the 49ers to lose yardage. Charlotte couldn't get into a rhythm and a bad snap on a 4th down meant a 20-yard loss plus a turnover which put SMU into scoring position on the 49ers 15-yard line.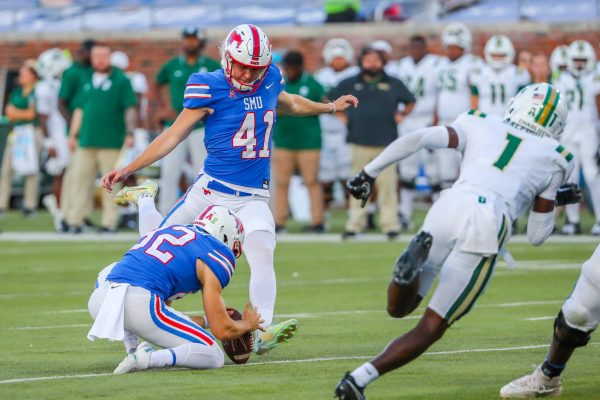 The Mustangs took full advantage of the field position and senior running back Jaylan Knighton rushed for a 1-yard touchdown.
The 49ers only response came from a 21-yard field goal which was met with the Mustangs' quick response of a 22-yard field goal, ending the half 17-3.
SMU didn't let up as Knighton went on to score a 95-yard rushing touchdown tying for the second-longest run in SMU history and the third-longest in AAC history. The following drive ended with SMU Kicker, Collin Rogers, converting a 33-yard field goal pushing the Mustangs into the at lead to 27-3 midway through the third quarter.
Charlotte tried to stop the bleeding against the Ponies by putting their trust in quarterback, Trexler Ivey, and found some success. They were able to slowly move downfield with passes to receivers and costly SMU penalties. Ivey threw a 3-yard passing touchdown but failed on the two-point conversion and SMU led 27-9 after three quarters.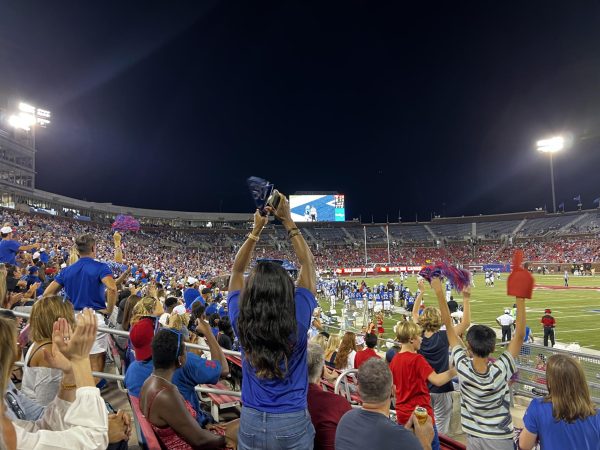 Midway through the fourth quarter, Ivey and the 49ers made their way back in the red zone as Ivey scored a 1-yard rushing touchdown, but Stone and the Mustangs quickly answered back with a 23-yard touchdown pass to R.J. Maryland to seal the victory.
Stone completed 14 of 23 passes for 135 yards, two TDs, and one interception. Knighton finished with 150 rushing yards on 11 carries while averaging 13.6 yards per carry.
SMU will be going into the bye-week as they prepare to go on the road to face East Carolina on Oct. 12.