On an early January morning, Garrett McLaughlin is surrounded by some of his closest friends and family in his hometown of Oklahoma City. By 11 a.m., his house is teeming with football and basketball coaches that used to mentor McLaughlin on different recreation teams. His soccer coaches from the younger days are also there grazing at a brunch.
McLaughlin, himself, is milling around the gathering. He has largely avoided talking to his family about what is about to happen for the better part of the last month. They know he is nervous about his placement in the Major League Soccer SuperDraft, the event that is about to kick off in about an hour's time.
Instead, the people who McLaughlin has conferred with about his future, for the most part at least, are in Dallas. He notes that Oklahoma City is quite a long drive. But even as his SMU family is hours away by car, they are certainly all on speed dial for whenever that moment happens when McLaughlin's name gets called.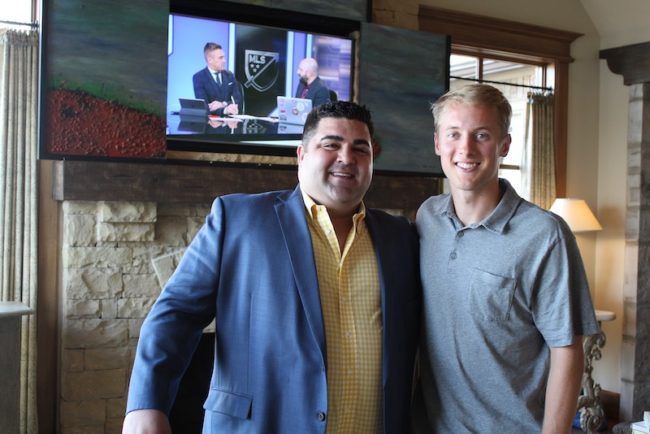 When the senior does get a call from the Houston Dynamo, as the eighth overall pick in the 2020 draft, McLaughlin is a full participant in the streams of pictures around the room. But, at the same time, he also fields calls from his coaches and teammates, who have been bugging him all week about where he wants to go – to which his standard line is "I will go anywhere that will take me."
In and of itself, there is a certain degree of significance that McLaughlin spends the biggest day of his life in two places: physically in his hometown and virtually, by phone, in Dallas. Four years ago, McLaughlin would have never thought Dallas would be a part of the equation. He wanted to go to Tulsa ­– that was where the hometown Oklahoma City boys went. In fact, when SMU head coach Kevin Hudson wanted to meet with McLaughlin in Phoenix as a junior, the high schooler didn't even want to take the meeting.
Eventually he was pushed to go. On that day, McLaughlin outlines, he changed his mind about SMU once he saw the importance of the relationships, his role in the program and the scholarship offer made. Maybe these names helped alter his college choice too: Luchi Gonzalez, Carl Bussey, Diego Walsh, Ramon Nuñez, Ugo Ihemelu, Michael Nelson, Mauro Cichero and Emil Cuello.
All seven of these players played either with or for Hudson. All are first-round MLS picks. It is a list that McLaughlin, and seemingly every SMU soccer player, wants to join. Now, the Houston Dynamo's newest addition is a permanent member of that club.
Excellence is the standard. #SMU2MLS x #PonyUp pic.twitter.com/EBcF0JhUTq

— SMU Men's Soccer (@SMUSoccerM) January 16, 2020
McLaughlin's journey to SMU might be different. His story is unique, but the end result of going to the MLS is nothing new for a program that has churned out 35 MLS draft picks in 24 years. That number jumps to 49 players who have played professionally if players who didn't get drafted for played in other leagues are counted. Just this year, SMU had four players offered the opportunity to sign a professional contract.
Believe in your dreams. Excited to get started!! ⚽️❤️🙏🏿 https://t.co/H7H2h1PuQG

— Eddie Munjoma (@EddieMunjoma) January 13, 2020
For SMU, there is something in the training and the talent that has been able to produce this caliber of player. Eddie Munjoma, an All-American who signed a "Homegrown" contract with FC Dallas this year, an MLS rule that allows teams to sign local players from their own developmental academies, and Philip Ponder, now playing on the developmental team for FC Dallas, both say they made SMU their dream school for this reason. Both of these players were teammates in FC Dallas' academy before coming to SMU in high school, and Munjoma said SMU was really the only school he even tried to come play for.
"I always had dreams to play professionally," Munjoma said. "As far as SMU goes, I wanted to go there before high school, or before I knew the whole recruiting process. I had gone to a couple SMU games when I was younger, and I just admired the school. I just saw myself playing for that team at some point. I knew my ultimate goal was to go play professionally, but I thought SMU would be kind of like a bridge in between the academy and professional."
Ponder added, "I will say SMU was my dream school for sure. I grew up and went to their boys camp when I was in middle school."
In the program, there are a list of goals; there is the team goal, goals to build relationships and also goals to allow players to play professionally. What SMU players like to say is unique, however, is that no one goal takes precedence over the other. Relationships are equal to trophies. Relationships help players take the next step in their careers just as much as any victory or goal scored.
SMU has developed a process that has produced MLS talent at one of the highest rates in the nation. In the last 20 years, only 11 other programs have placed more players into professional contracts than SMU. On the recruiting side, this process starts by looking for leaders just as much as talent. Leaning on long-held relationships with coaches at the lower level to find players that fit off the field, just as much as on, it is the key. Once on campus, it is a unique blend of building a bond and embracing the training.
While there is no magic formula for turning out professionals, as everyone notes, Hudson has a story to try to explain the process that has no exact check list. After a pause, he decides to look no further than his captain, Phil Ponder, and FC Dallas to explain what he means.
It has been well documented the "thick ties" between SMU and FC Dallas. The head coach of the team, Luchi Gonzalez, is the only player in SMU history with his number retired and was a teammate of Hudson's on SMU's first College Cup team. The two talk every two weeks, something Gonzalez says, "helps build the relationship between FC Dallas and SMU." The owner, Clark Hunt, was a captain at SMU. That list could continue. But Ponder's particular player trajectory is an example of how those ties actually materialize into something that SMU can build on.
"Ponder is by far, without a doubt, the best leader I have ever coached. It is not because of me — it is just who Philip was, the way he was raised… you just can't replace it," Hudson said. "(We) knew he was a good leader (in high school). All we knew in the recruiting process was that Philip asked a ton of questions. People at FC Dallas that we trust said 'this kid is a great leader. He is going to be perfect for the locker room. He will be a good player for you but a better teammate.'"
Ponder became a multi-year captain, the best that Hudson has ever coached. While Ponder is a story about whom Hudson likes to talk, there are hundreds more in Hudson's head just like that waiting to come out. SMU picks leaders in the recruiting process – talent, of course, but leadership and fit come first.
A former assistant coach for Hudson, who now happens to coach Ponder as an assistant on the developmental team for FC Dallas, talked about the importance of relationships at the lower level to find a good fit.
"Part of the recruiting strategy is evaluating where past SMU men's soccer student-athletes have come from, where the program had success and a good track record recruiting. Coaching staff connections and relationships with certain coaches, clubs and high schools are also very important in establishing recruiting pipelines. There was always a strategic plan in place," Alex Aldaz said.
The flip side of creating this pipeline to the MLS is supporting players once they are on the Hilltop. Hudson and his staff enjoy the day-to-day grind of that. His players also tend to adopt that mantra too. Munjoma in particular, as Hudson tells the story, comes to mind as someone who loves the process. There is a comfort in training, a comfort that is developed in the program through the coaches and the team, that allow people to flourish.
"(Hudson) just made me feel comfortable, not just saying that I am going to come in and start and score. I know I do my best when I feel comfortable and I really did feel that connection," McLaughlin said.
This is when that final piece of the equation, the intangible nobody can define but everyone talks about, comes into play: the relationships. On any given day, it is not uncommon to see a player in Hudson's office talking about life, the team, or even that elusive dream of playing professionally, sometimes for hours. As much as Hudson, or "Huddy," as his team calls him, doesn't want to take credit for others' success or the contracts signed, his team knows he is one of the main orchestrators that make it all work.
"As I got older and more mature on the team, I began to have a really good relationship with Huddy. I really think it's a blessing. We would sit in the office for an hour, two hours, just talking about life, the game, my teammates and what they need," Ponder said.
"In college you are just finding who you are. Obviously, Kevin was my soccer coach, but he helped me with all of that as well," Munjoma adds. "From a soccer standpoint, he did everything possible to make sure I was developing and being able to reach my goals. Even now he still reaches out to make sure everything is well with me."
This is the SMU way. Leadership, character, training, and a bond people call the "Brotherhood." They come in no particular order, but if they had to choose they would pick the latter. It all culminates in the pro contracts, a spot among college soccer's elite in this regard.